J'Eyleen von der burg Austerlitz TKN OFA
Hips: OFA Excellent GS-107633E24F-VPI
Elbows: OFA Normal GS-EL45781F24-VPI
Cardiac: OFA Normal GS-BCA197-24F-Practitioner-VPI
Dentition: OFA Complete GS-DE740/24F-VPI
Degenerative Mylopathy: Embark Normal (N/N)
Call Name: Norma
TKN: AKC Trick Dog Novice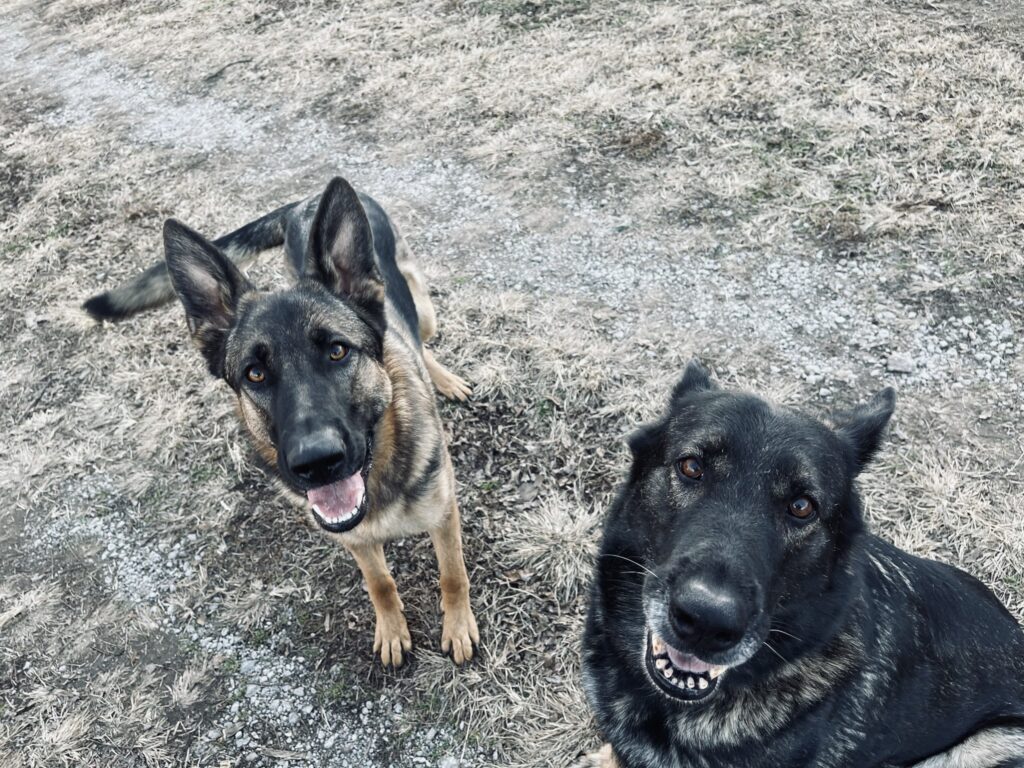 OFA Database
Embark Results
Pedigree Database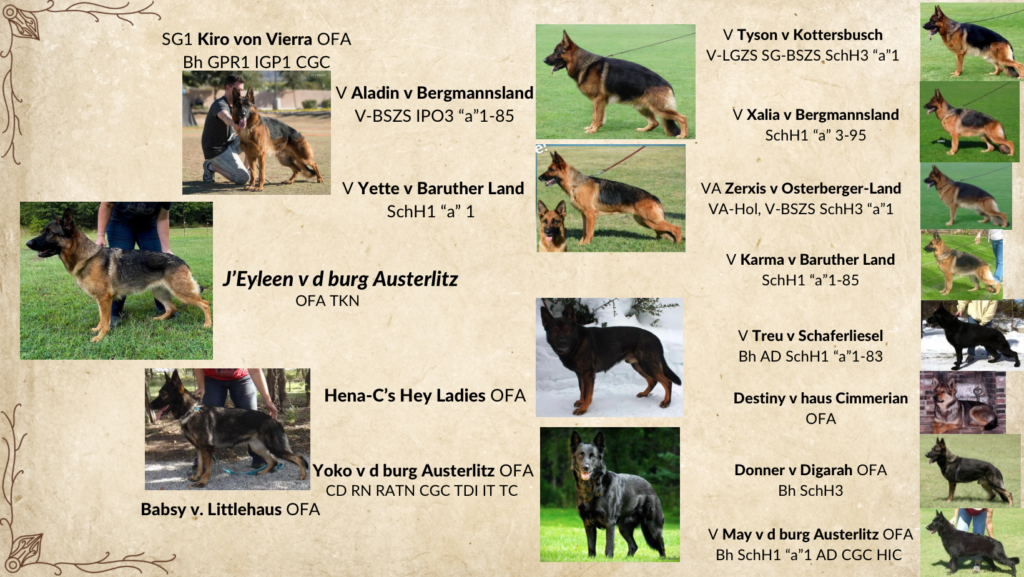 J'Eyleen, AKA Norma, is a large, powerful, saddle marked red sable, female out of our much loved female Babsy v. Littlehaus OFA, bred by our longtime friends at Littlehaus and out of our homebred Yoko v d burg Austerlitz CD OFA CHIC herself a daughter of our top producing female V May von der burg Austerlitz Bh AD SchH1 Kkl1 OFA a daughter of our foundation female, and direct Fero daughter Eyleen.

A gentle dog despite her large size and powerful pedigree, Norma lives to please as is typical for the old East German bloodlines on her mother's side. Norma takes about 5 minutes to decide new friends can stay, and once you have her heart she will remember you forever. She is a delight to live with, being funny, playful, level headed, and just oh so good natured (unless you are the UPS man!). She loves puppies, and all our family dogs of all sizes, ages, dispositions, and genders. Norma is as fun to train as she has been slow to mature, so patience is key for those who want dogs from her motherline. She has loads of super fun toy and play drive and a good amount of food drive to balance that all out. She loves to pull and is enjoying learning canicross, disc, and now that she's two we will find a titling venue she enjoys for more fun and adventure.

Norma is a large female, powerful in bone with a strong yet feminine head without any hint of coarseness. She has good angulation and no hint of extremes, such as looseness, wobbly hocks, or hackneying in the front. Her movement is strong, correct, and rock solid dry and firm. Her athletic ability is impressive, she's a natural at all things physical, and she loves to move! A beautiful saddle marked red sable we are very much looking forward to breeding Norma and increasing the number of sables in our program.