Lasha vom Eisernen Kreuz BCAT OFA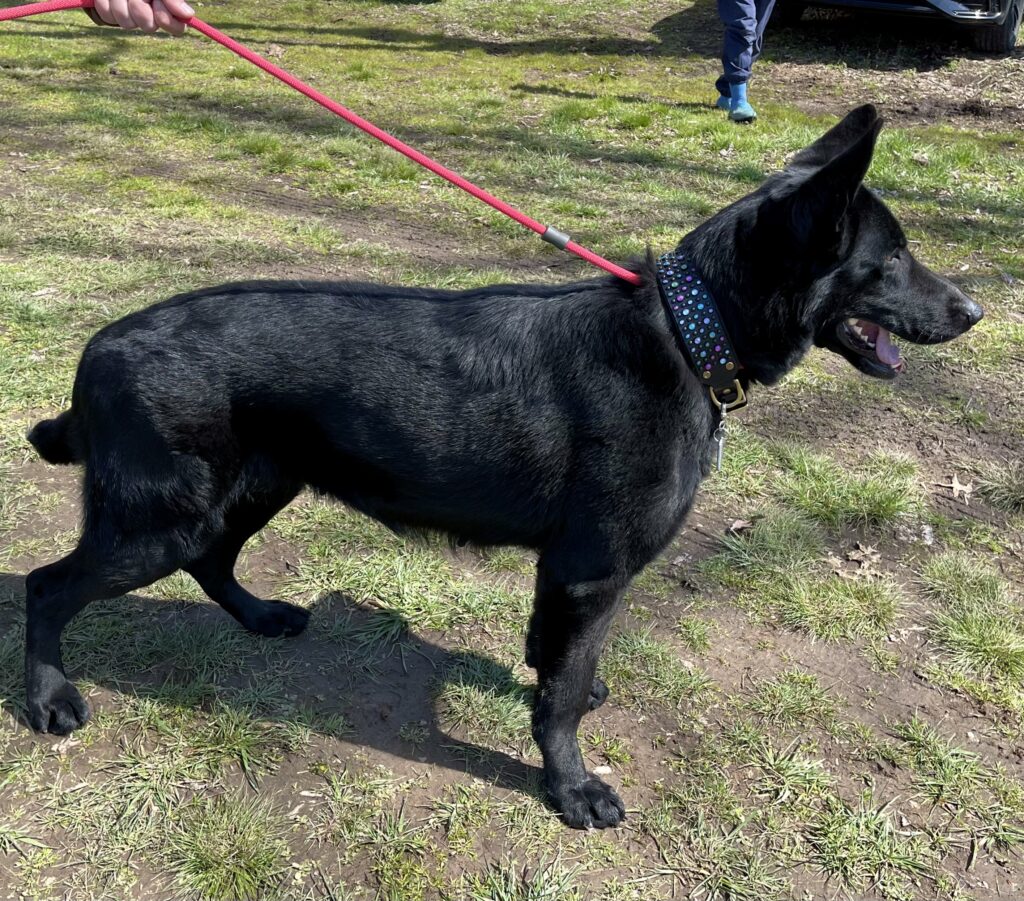 Lasha vom Eisernen Kreuz OFA
Hips: OFA Good: GS-108535GG56F-VPI
Elbows: OFA Normal: GS-EL46639F56-VPI
Cardiac: OFA Normal: GS-BCA275/56F/P-VPI
Dentition: OFA Complete: GS-DE775/56F-VPI
Degenerative Myelopathy: Embark Homozygous N-N (normal)
Lasha Pedigree Database
Lasha OFA Database
Embark Results
Lasha is a beautiful, solid black, medium size female imported from Germany as a puppy. She has good structure, strong bone and feminine head without being overly heavy, or coarse. Lasha is solid, healthy, and sound at 7 years. We are super happy to add her to our program!

Lasha is an exceptionally good natured dog, friendly, confident, and open with everyone she meets. She loves to train, play, and just hang out, so she is a delightful companion dog who enjoys family activities.

Lasha has a beautifully constructed pedigree, filled with Germany's finest dogs and bloodlines. Both Lasha's sire Jeff (BSP 2016) and dam Dina (BSP 2015, 2016-12th place, 2017-11th place) competed in Germany's prestigious national championship as have many of her relatives. Strong females are the backbone of her pedigree, with such amazing dogs as V Dina, V Bira, Wilma (BSP & FCI), V Aline (WUSV) and Gine v d Kine the litter sister to Gotthilf (BSP Sieger) & Greif (BSP) ensuring she passes her amazing traits on to her progeny. Lasha's pedigree is also a proven health pedigree, with low ZW and a high percent of "a" 1 and OFA Good and Excellent first degree relatives. She herself passed orthopedic testing at 56 months with rating of Hips Good and Elbows Normal.

Given the strength of Lasha's pedigree and her own outstanding temperament, character and disposition we are looking forward to adding Lasha to our program and seeing what she produces. We are expecting her to produce her own easy to love personality, love of toys, play, food, and social interaction, robust health, and correct in standard structure free of any extremes.

Note: You will notice in Lasha's photos she has a short tail. X ray evaluation and puppy photos confirm this is due to a traumatic injury of her tail and not a congenital defect.