If you might be interested in a puppy please Contact Us to inquire.
K Litter: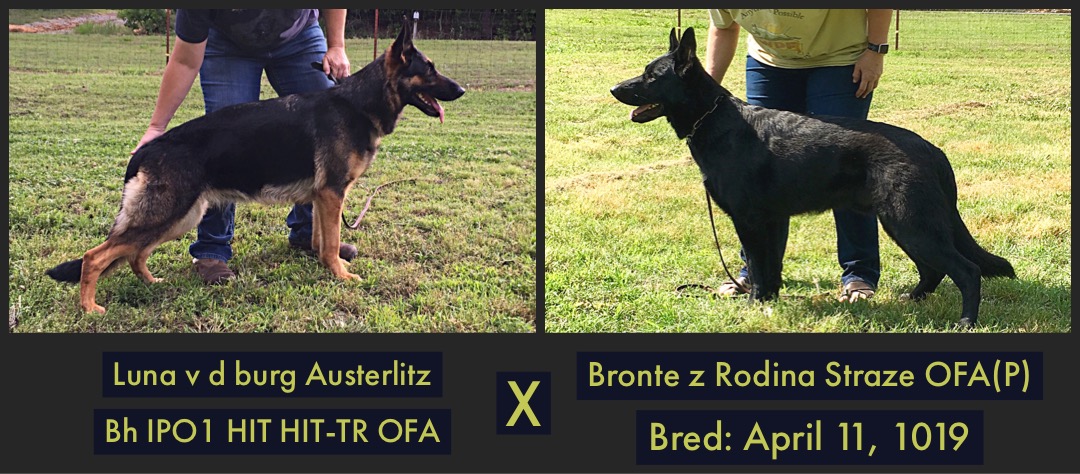 Sire: Bronte z Rodina Straze OFA
Dam: Luna von der burg Austerlitz Bh IPO 1 (High In Trial, High In Trial: Tracking) OFA
$2000 (Until 10/01/2019 then $2500)
Date of Birth: June 10, 2019
Females: 1 Solid black female available!
We have 1 puppy available from the K Litter: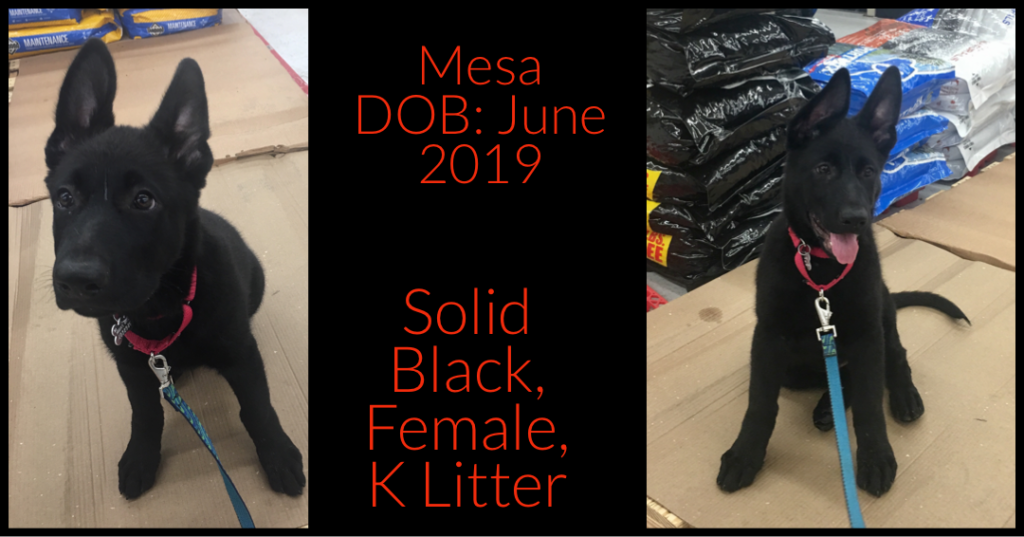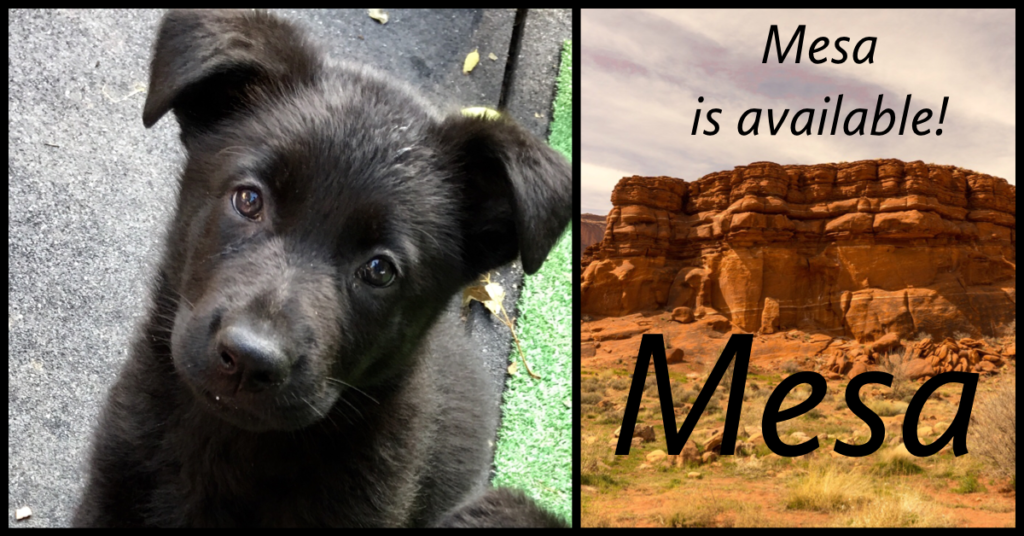 Mesa is an outgoing and upbeat puppy with a playful and easy to train disposition.  She is medium size with very strong bone.   Mesa is suitable for an active family that wants their dog to share all aspects of their life together.   She has lots of potential for advanced training and sport, in addition to being a lovely companion.  $2000 until Mesa is 16 weeks old, at that time her price will be $2500 to reflect more training, socialization, and completed puppy health care.  
Mesa has been raised with Puppy Culture, has been extensively socialized, has basic puppy training including: 
Asking politely by sitting.

 

Comes when called.
Hand Targeting.
Leash Training.
Husbandry Behaviors are started:  Loves brushing, and is learning to enjoy nail trims, she is good at the vet. 
Specialized Work:  
Crate Training well started using our Crate Conditioning For Puppies Protocol (https://austerlitzshepherds.com/2017/05/crate-training-for-puppies-an-incremental-approach-to-crate-training-puppies/)
House Training well started using our Poop School protocols (https://clicketysplitdogtraining.com/why-im-so-passionate-about-poop-and-other-musings/) and Mesa's new family will enjoy a complementary membership in Poop School: House Training Basics to continue her house training.

 
Health Care:  Mesa is current on all AVMA recommended health care. 
Vaccinated at 2,4,6 weeks with Pyrantal Pamoate and 8 weeks with Febendozole.
Vaccinated (Vanguard Max 5) at 8 and 12 weeks
Well Puppy veterinary exam done.

 

Microchip implanted and lifetime enrollment paid
Heartworm prevention started.
Flea/tick preventive applied (Frontline)
If you might be interested in Mesa please Contact Us.
This is a repeat of an excellent litter, Luna consistently produces progeny with outgoing and confident temperaments, medium energy levels, and a good balance of social, food, and toy drive to make training fun and easy.   These puppies should make excellent companions for active families and those with an interest in training.
Expecting medium to upper medium size dogs with strong bone and rich pigment.   We are expecting solid black and black factored black and red (bi color).   Puppies will be DM clear by parentage.
The theme for call names for this litter is national parks, huge thanks to our FB page followers for helping us choose  theme and voting on call names for the Luna's puppies.
You can find daily updates, photos, and watch the puppies work through our training, socialization, and Puppy Culture protocols on our Facebook Page!