Current Litter: Spring 2020
If you might be interested in a puppy please Contact Us to inquire.

M Litter: Whelped February 10, 2020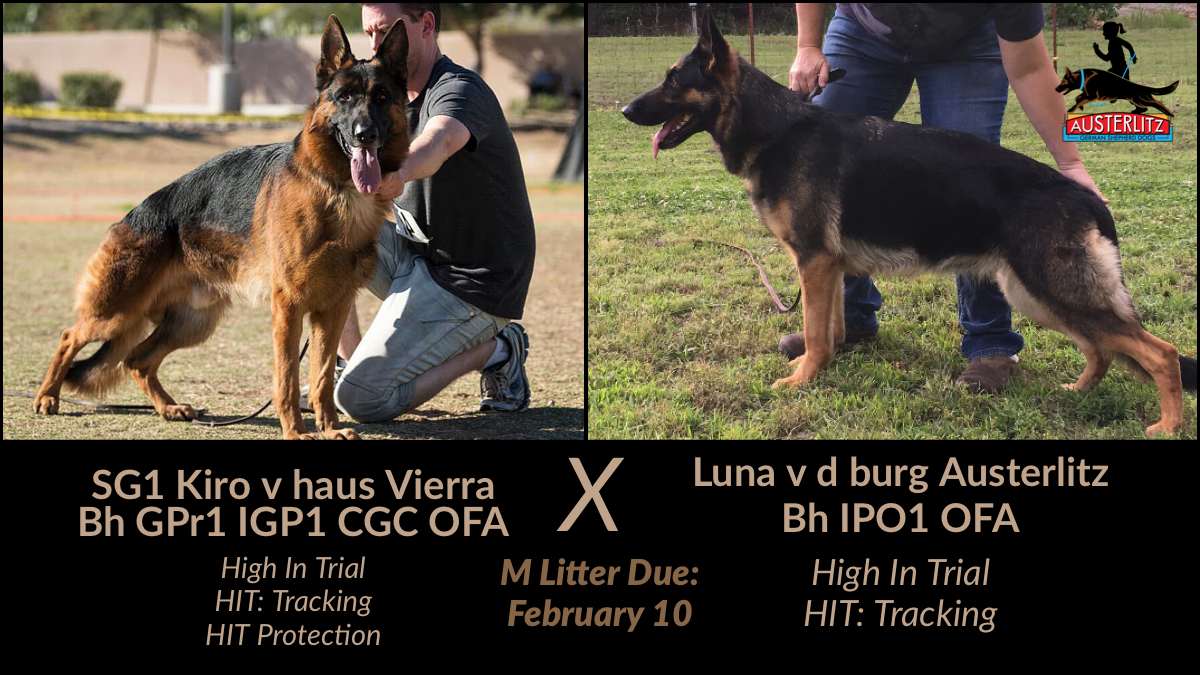 Sire: SG Kiro v haus Vierra Bh GPr1 IPG 1 CGC OFA
Dam: Luna von der burg Austerlitz Bh IPO1 OFA
Puppy Price: $2000
3 Females: All black and red (1 available)
Dates of Interest:
Whelp Date: February 10
Puppy Party 1: March 22nd
Puppy Party 2: March 29th
Puppy Party 3: April 5th
Send Home/Passionate Puppy Raising Seminar: April 11th
Expecting beautiful black and red puppies with either saddle or blanket markings.   Luna is black factored, so some puppies may be blanket or darker.
Luna is a proven producer of excellent quality progeny with outgoing, confident, and easy to live with dispositions.   These puppies are expected to excel as delightful companions with outstanding potential for advanced training and sport.
This may be Luna's final litter, please start the interview process early if you are interested in a Luna puppy.
L Litter: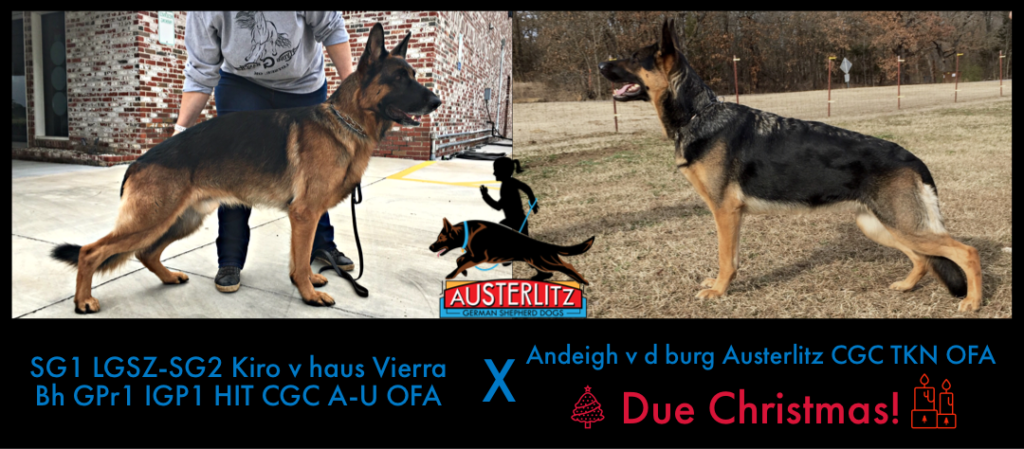 Sire: Regional Vize Sieger  SG Kiro v haus Vierra Bh GPr1 IPG 1 CGC OFA 
Dam: Andeigh von der burg Austerlitz CGC TKN OFA 
We may have 1 female available from this litter at 4 months (around mid April).  Contact us if you are looking for an older puppy with some training.
All Austerlitz German Shepherds Puppies come with the following value added training, socialization, registration, and insurance.
2020 Puppy Price: $2000
1. All puppies are raised using Puppy Culture protocols by our expert team of professional trainers.

Your puppy will have the tremendous benefit of being raised using Puppy Culture protocols and a copy of the film, Puppy Culture The Powerful First 12 Weeks is included in your puppy pack so you can continue our work when you take your puppy home.    You can learn about Puppy Culture here.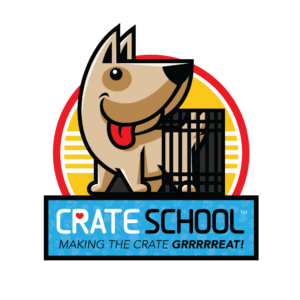 2. All puppies have crate conditioning started using our own Crate Conditioning for Puppies: An incremental approach (UPDATE 2019) techniques and each puppy family gets a complementary enrollment in our Confident Crating: A Guide For The New Puppy Owner. Course.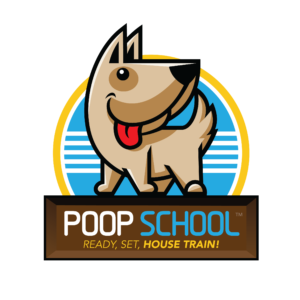 3. All puppies receive cleanliness training using our own Poop School: Litter Box Basics For Breeders and Fosters Techniques and each puppy family gets a complementary membership in our house training course Poop School: House Training Basics So you can continue our cleanliness training as house training once your puppy is home.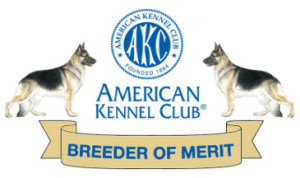 4. All puppies are fully registered with the American Kennel Club. We take care of the cost of registration and your registration certificate will be mailed to your home by the AKC (all puppies are placed on AKC Limited Registration).
5. All puppies are microchipped with an AKC Reunite Chip including Lifetime Enrollment.   All you need to do is keep your listed contact information updated, we've taken care of the cost of enrollment.
6. A healthy puppy.  We take health care very seriously and work hard to produce the healthiest puppies possible.   Puppies are fed a diet that meets or exceeds WSAVA Guidelines (Pro Plan Sport 30/20), vaccinated in accordance with AAHA Guidelines, receive a Well Puppy Check by our veterinarian prior to leaving for your home.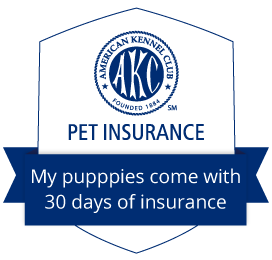 7. Complementary Health Insurance:  We provide 2 30 day complementary pet insurance plans with your puppy.  The first is included with your AKC Registration and you will activate this via an e-mail sent to you from the AKC.   The second is via Trupanion's Breeder Program and you will receive activation instructions in your puppy health packet.   Each policy is slightly different and will help protect your puppy in case of accident or certain illnesses that might occur in the first month in your home.
8. Lifetime of Support and Community:  Once you have a puppy from our program you enjoy all the support, guidance, and community we can offer.  We have built a strong community of FB Groups to help you succeed with your new puppy.   These Include a 12 month membership in Passionate Puppy Raising, a 6 month membership in Poop School House Training Basics, a 6 month membership in Crate School: Confident Crating, lifetime membership in our general subject GSD group, the German Shepherd Dog Network, and our Austerlitz German Shepherds Kennel Group.  Invites to our entire family of support groups are sent at Puppy Pick Up day.
9. Our Amazing and Audacious Austerlitz Puppy Jump Start Kit, to help you get your puppy off to the best start possible.
2020 Kit Contains:
1. DVD or VOD: Puppy Culture the Powerful first 12 Weeks.
2. Book: When Pigs Fly: Training Success with Impossible Dogs
3. Austerlitz Shepherds Complete Health and Training Record
4. AKC and Trupanion: Pet Safety Booklets
5. 1 Cup Dog Food Scoop
6. Clicker with wrist coil
7. Puppy Training Treats
8. Pro Plan Sport 30/20 (enough for 1 week)
9. Poop Bags (1 roll and holder)
10. Puppy Culture Swag Bag
11. Small Magic Mat (for settle down training)
12. Booklet: Puppy Fitness that Fits the Puppy
13. Booklet: Spay and Neuter Considerations
14. Familiar scented toy.
15. Snuffle mat and an assortment of high value chews and pacifiers.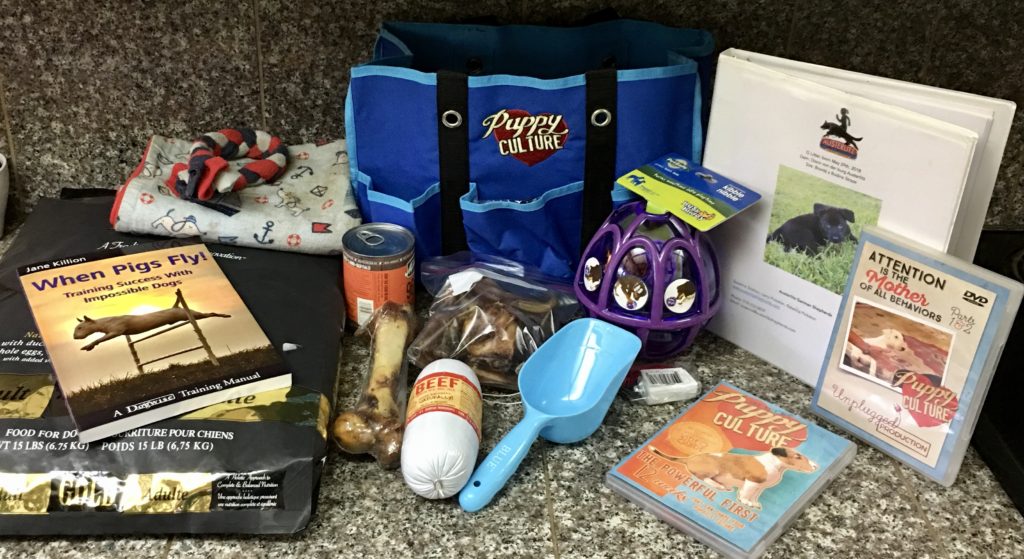 10. All the care and support a legacy preservation breeder of over 30 years experience can provide.   We care about our puppies AND our clients.   We will do our best to provide a lifetime of support, community, and guidance.