Merreigh von der burg Austerlitz TKN BCAT FITB OFA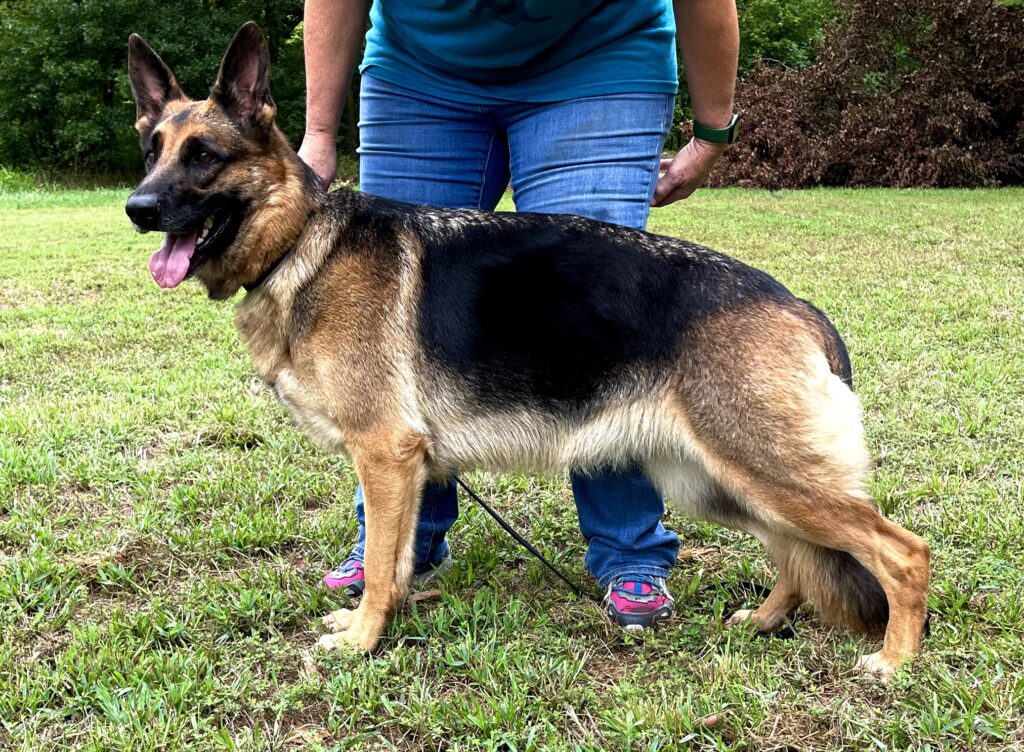 Hips: OFA Excellent GS-109246E24F-C-VPI
Cardiac: OFA Normal GS-BCA345/24F/P-VPI
Dentition: OFA Complete GS-DE806/24F-VPI
Degenerative Myelopathy: Embark Normal/Normal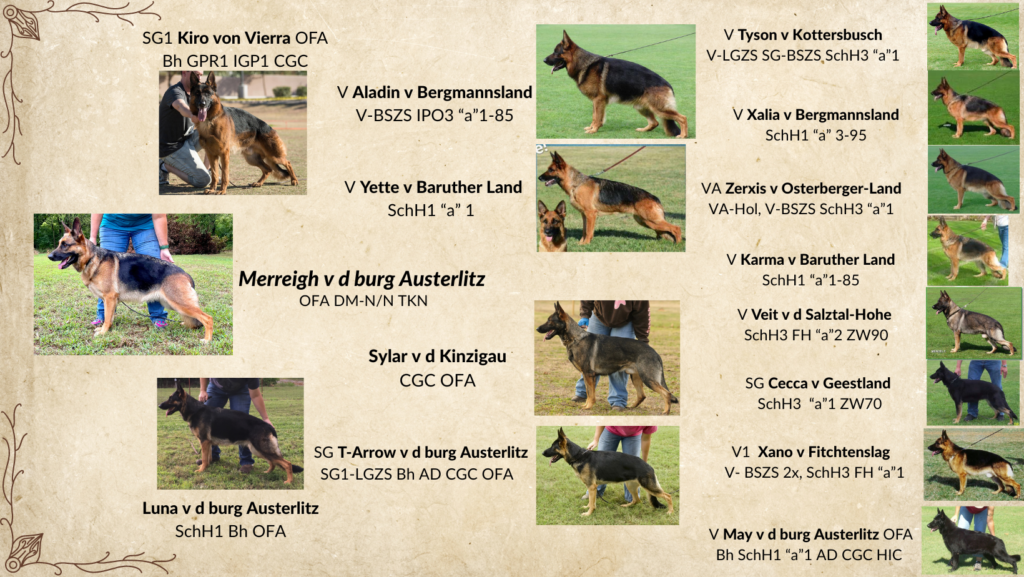 TKN: AKC Trick Dog Novice
BCAT: AKC Fast Cat
AKC FITB: Fit Dog Bronze
Links to Merreigh's health testing results and extended pedigree
OFA database
Embark database
Pedigree Database
Merreigh is a beautiful medium size black and red saddle marked female reminiscent in type of the German high line dogs of the late 1990s. She has excellent structure devoid of any of the current extremes in angulation, bulk, forehand placement, loose skin, or lack of firmness the breed is struggling with at present. Merreigh has very good angulations front and rear, a rock hard topline and a long underline, all wrapped up in tight and dry musculature and connections. You won't find any excess of bulk here, Merriegh has strong bone, is feminine, and powerfully athletic and fit. Merreigh is an ideal example of our type, being athletic, correctly structured, beautiful to the eye, and every part working together.

Merreigh is every bit her mother Luna's daughter, possessing her mothers love of any activity (so long as her person is participating), absolute determination to do what is asked of her, but with a strong dose of the traits we so love from Kiro. She has Kiro's pronounced sense of humor and is prone to being silly for the sake of being silly, she is very tolerant of all the other dogs and really loves puppies and young dogs. Merreigh has loads of toy and play drive, and moderate food drive, she is easy to teach and easy to work with. She represents four generations of our own breeding, stemming from the Luna – T Arrow – May – Eyleen motherline and with such program favorites as Sylar v Kinzigau, Xano v Fitchtenshlag, and now Kiro to represent our Sire lines.

Merreigh is a fun and pleasant dog to live with, her good nature goes with her everywhere, she is open to new friends but not overly intent on making them, she is environmentally confident and goes to new places with ease. At home she is a busy girl who is excellent at keeping herself busy when needed, who loves to play outside and chase squirrels, and who is happy to just hang out when it's too hot in our Oklahoma summers to do much outside. She loves hiking, exploring, catching discs, running really fast, and playing fetch or scent games. She is truly a fun and interesting companion.