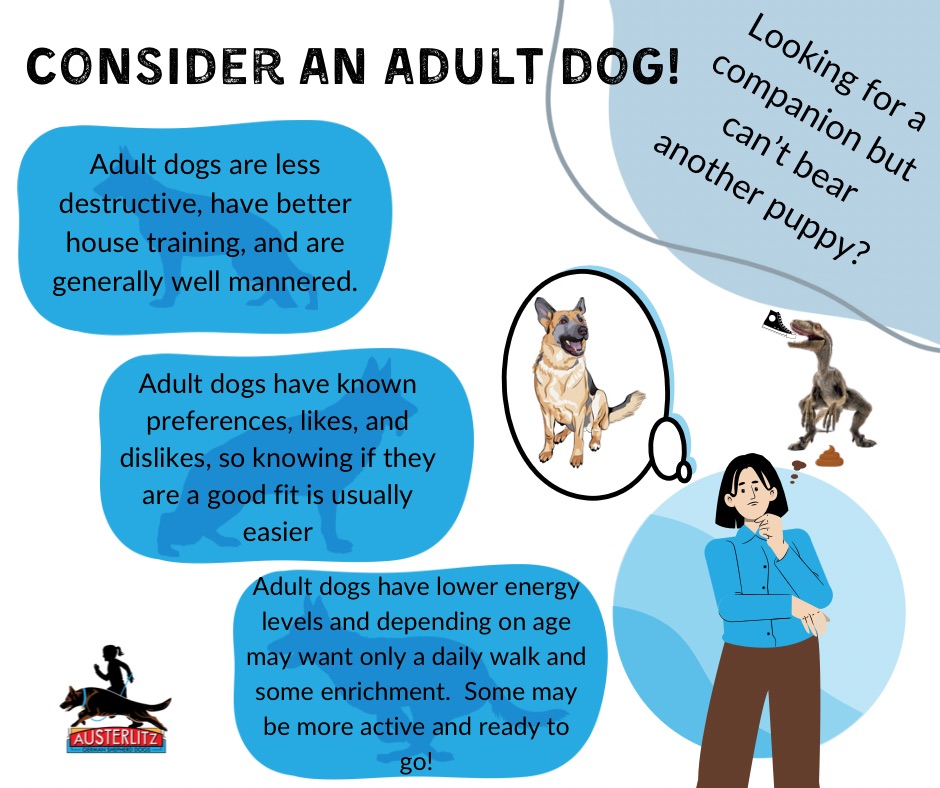 Older dogs are a great option if you are looking for a great companion but don't have the time or inclination to do all that hard "puppy" work!

Adult dogs are going to be well past the chewing, biting, and destruction phase. They are house trained, travel well, and once they have settled in to their new life are ready for new adventures with you!
To allow for a gradual transition to their new family, and to allow us the opportunity to fully support you and your new dog during the adjustment period, we give preference to local (within a 90 minute drive of Tulsa, Oklahoma) families in the placement of our adult dogs.
Note: We do NOT place any dogs for breeding! Please do not inquire after breeding dogs. We do not broker dogs from Europe, so we do not keep an inventory dogs for sale.
OUR Adult dogs are:
Raised with Puppy Culture
Have basic manners training (often more) done with positive reinforcement methods.
Current on standard health care: vaccinations, heartworm preventive, flea/tick preventive, etc.
House Trained and currently living in our home.
Crate trained.
Travel well in the car (crated).
Socialized in public regularly.
Good with house mate dogs (unless otherwise noted).
Good with guests to our home (unless otherwise noted).
Come with complete health records.
Eating a high quality diet: Pro Plan
Adult dogs are priced between $500 and $1000 depending on age and other factors.
Currently Available Dogs: We have a middle age, neutered, healthy female dog available to an active companion home, male housemate dog ok, adults only home, dog has not been exposed to cats. Must be local to Tulsa.
Client Dogs In Need of New Homes:
Occasionally those who have purchased puppies from us need to find new homes for their dogs. Life changes, death, divorce, all manner of things can result in an adult dog needing to find a new home. To support our clients we will list those dogs here if they are still living in their current home. If they must be returned to us they will move up and be listed under Our Dogs.

No client dogs in need of new homes at this time!
'