Occasionally we may have adolescents, young adults, or adult dogs available.  All young dogs are treated with the same level of care as our puppies. All dogs are socialized, trained, and groomed frequently, to help assure a smooth transition to their new homes. They also travel with us to our local dog classes for more training and socialization.
To allow for a gradual transition to their new family, and to allow us the opportunity to fully support you and your new dog during the adjustment period, we give preference to local (within a 90 minute drive of Tulsa, Oklahoma) families in the placement of adult dogs.
Note:  We do NOT place any dogs for breeding!  Please do not inquire after breeding dogs.  We do not broker dogs from Europe, so we do not keep an inventory dogs for sale.  Please do not make these types of inquires.  
Adult dogs are:
Raised with Puppy Culture
Have basic manners training (often more) done with positive reinforcement methods.
Current on standard health care: vaccinations, heartworm preventive, flea/tick preventive, etc.
House Trained and currently living in our home.
Crate trained.
Travel well in the car (crated).
Socialized in public regularly.
Good with house mate dogs (unless otherwise noted).
Good with guests to our home (unless otherwise noted).
Come with complete health records.
Eating a high quality diet: Pro Plan
Adult dogs are priced between $500 and $1000 depending on age and other factors.
Currently Available Dogs: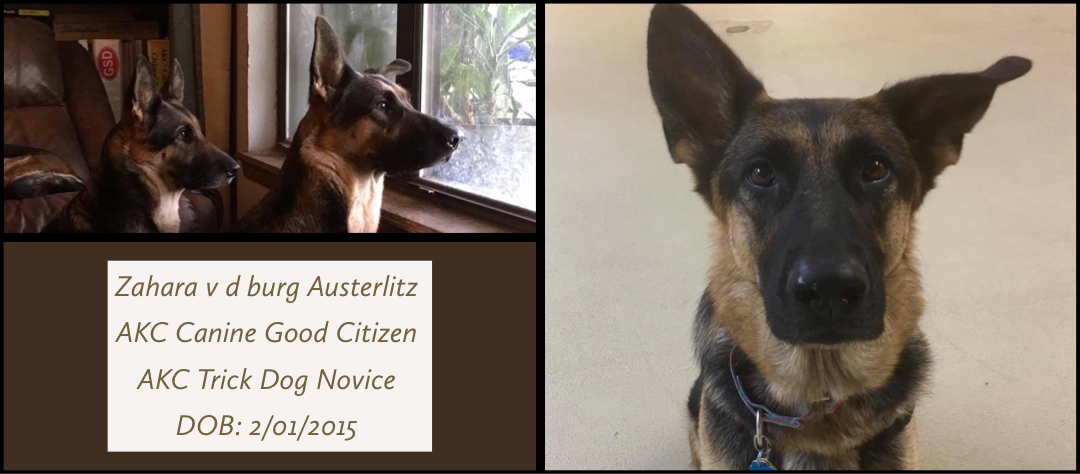 Zahara is a much beloved nanny dog here at Austerlitz Shepherds, she has helped raise many litters of puppies, teaching her little students her own calm and mannerly ways.
Zahara is up to date on all health care, vaccinations, heart worm preventive, flea tick preventive, she is healthy (occasionally Zahra chews on her feet, she has never needed medication or treatment for this, seems to be a habit or seasonal allergy of a very mild type) and ready for her new home.  $750
Zahara has spent many hours working as a demo dog in our classes too, where here calm and welcoming demeanor has helped many students feel comfortable and many dogs feel relaxed and ready to learn.
We are only considering a new home for Zahara because she has become a little bit dog intolerant with a couple of our other dogs, nothing major,  but we have decided she would likely be happier in a home with fewer dogs to annoy her.
We are looking for a single dog home for Zahara, where she can be the "only child" and enjoy lots of one-on-one time with her family.
If you are looking for that ever elusive calm, easy going, easy to live with, sweet natured GSD to share your life with please ask us about Zahara.    We love her dearly and will only consider the perfect home for her.   So, if you are looking for a kind hearted, easy going, well trained and mannerly companion to spoil and share you life with Zahara might be the perfect dog for you.
Confident cats are OK, Zahara enjoys following our house cats around, but she might chase a flighty or scared type of cat.
We do not have young children anymore, so Zahara has not been exposed to small children regularly.   We prefer a quiet home with teens and adults, or adults only.
Zahara enjoys taking slow paced walks where she can sniff and enjoy herself.   She enjoys enrichment items and puzzle games.   She likes to take rides in the car, and is mannerly and easy to handle in public places.   She enjoys clicker training and learning new things, also naps, squirrel chasing, and being told what a good girl she is.   Zahra is suitable as a lovely companion, while she would enjoy hobby sport such as scent work, rally OB, or trick training, she is just as happy hanging out with you and being a love bug.
Price: $750
Contact Us if you might be able to give Zahara her perfect forever home.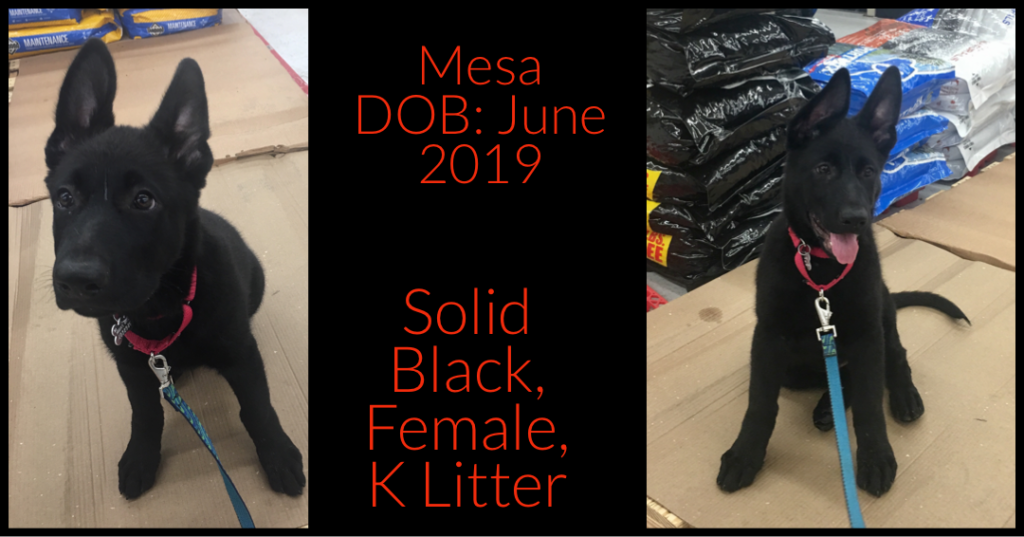 Mesa is a lovely 3 month old female from our K Litter.  While reserved for placement her family was unable to take her do to personal reasons.    So Mesa became available.
Mesa is a lovely, outgoing, female.  Solid black with very strong bone and good structure she will mature into a powerful and beautiful GSD.
She is a happy and cheerful puppy who loves to learn, play, and spend time with her people.   She is good with our other dogs and is a pretty easy puppy overall.
She will make an excellent active family companion, or a hobby sport dog with TONS of potential.
To learn more about how Mesa was raised please visit her listing on our Puppies – Current Litter page
There you can find lots more details about Mesa.
Mesa is currently at our puppy price ($2000) until she is 4 months old (if she is here that long) and all her health care and puppy training are complete then her price will be $2500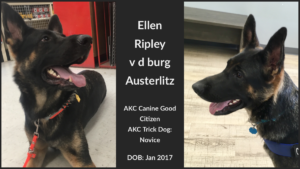 Rose is from our E-litter, out of Sylar and Quinta. She is up to date on all vaccinations, heart worm prevention, flea/tick preventives, and general health care.
Rose was raised with Puppy Culture Protocols, and has been a demo dog in our manners classes from a young age. She has earned her AKC Canine Good Citizen and Trick Dog Novice titles, and has basic manners training.
Rose is social and outgoing with people, happy to visit but also happy to do her own thing. She has been raised with both male and female dogs and is social and playful with her housemates. Rose has not been exposed to young children or cats.
For more pictures and videos, please visit her devoted Facebook Album on our Facebook page.
If you are interested in Rose, please contact us for more information.