We are always looking for the best homes for our German Shepherd puppies, with owners who will be as dedicated to their dog's health and happiness as we are.
When you add an Austerlitz Shepherd to your home, you become part of our extended "Austerlitz Family" with all the support and community that entails. As dedicated breeders of German Shepherds we look forward to getting to know

you!

What do you need to know about us?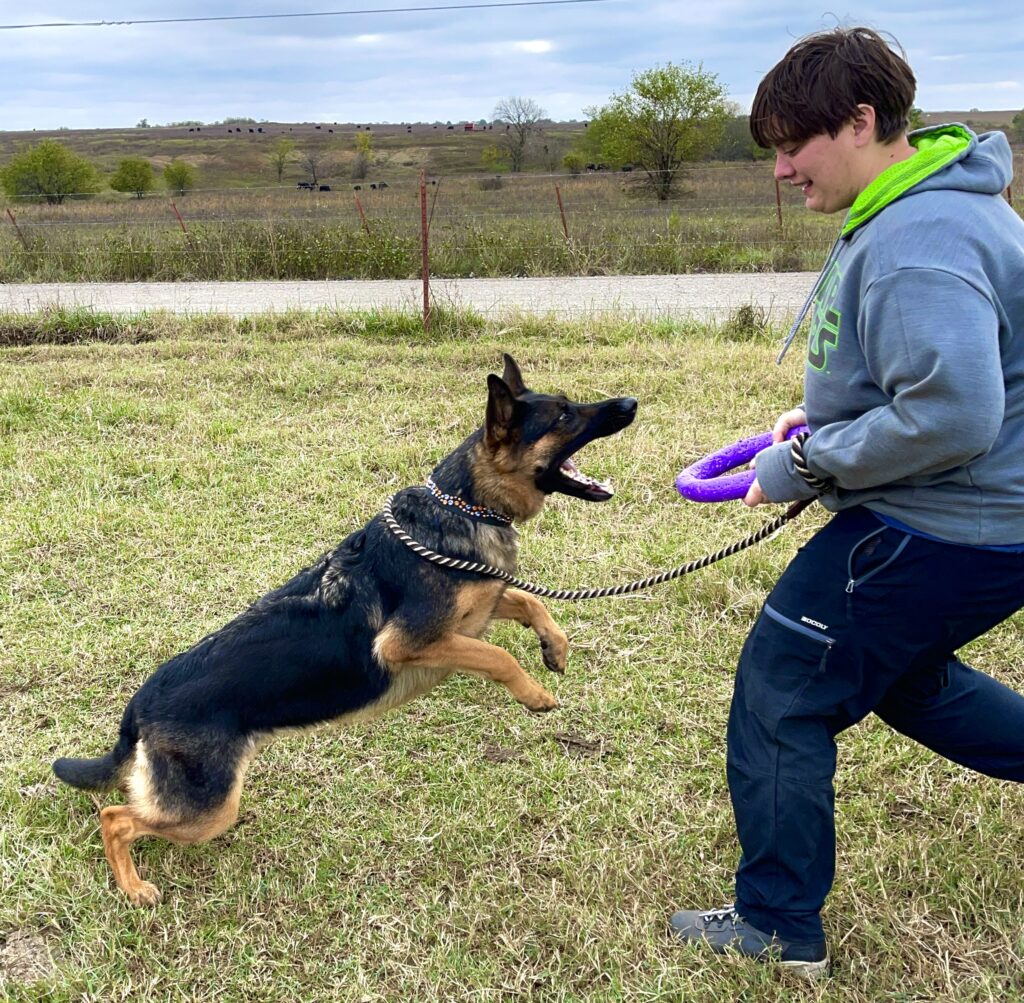 We are preservation breeders of the German Shepherd Dog for over 30 years, with a combined experience in the breed of of over 75 years.  To learn more about us visit our Meet The Breeders Page.
Susanne Shelton is proud to be an AKC Breeder Of Merit, and a member of the German Shepherd Dog Club of America. She is a former USCA club president, training director, and USCA Mid Central Regional Breed Warden. We proudly won the Best MC Regional Breeder, USCASS Youth Sieger, and many regional siegers and siegerins.
Here is a little bit about our program, for more details check out our How We Raise Our Puppies page.
Here is how the process works, from start to finish!
2022Puppy Price: $3000
Like all responsible breeders we care deeply about the long term happiness and welfare of every dog we produce.  One thing sets us apart from from many breeders is our expertise in working with both dogs and humans, and our knowledge of how to make the best match for each puppy and client.  But we can't know if a dog from our program is a potentially a good match for your unique situation, lifestyle, family, and overall needs until we get to know you a little bit better!   

Before you contact us be sure you have reviewed the website and found answers to your questions that have answers there!
1. We get to know you, and you get to know us:   If you are looking to bring home a puppy in the next 12 months complete our New Client Questionnaire together with your entire family's input.   This is the first, and most important step in the application process.   We will be learning about your family to see if your needs fit with the physical and behavioral traits expected in our puppies.   Please be aware, not everyone who completes the application ends up getting a puppy from our program, this is in no way a judgement on you or your family!
2. We will read your questionnaire and (most likely) send you follow up questions. If we do not think the puppies we are producing are the right fit for your situation and needs we will let you know, if we do think our dogs will work well in your situation we will let you know and you will be placed on a wait list.
3. Your work is to follow our website, Facebook Page, and sign up for our Newsletter. As soon as you see a Planned Breeding that works for your timing and desires Contact Us and let us know. If there have been changes in your life please send us an updated New Client Questionnaire too.
4. Once that pregnancy has been confirmed via ultrasound 28 days post breeding you will be notified. If the female is NOT pregnant you can choose to be removed from our wait list, or move back to the general wait list. If the pregnancy is confirmed you will move on to the following steps.
5. Phone or Video Chat: When the litter you are interested in is 1 Week Old we will start scheduling video chats. This gives us a chance to talk to you about what we expect in the puppies and gives you a chance to ask us questions.
6. Commit or Decline. At this point we will know the gender and color of the puppies (though we likely will not be able to identify stock coat from long stock coat puppies) and if you commit to a puppy you will place a non refundable commitment/education fee of $500, be given access to all course materials, Litter Group, receive your Puppy Culture DVD or VOD, so you can start to prepare for the arrival of your puppy before your puppy actually arrives.
7. Follow Along: Once you have placed a holding fee (if one is requested) you will be sent your copy of Puppy Culture, given course access codes, so you can follow along with our puppy raising work. We post photos and videos of our work regularly on our FB page, and into the Family Litter Group.

8. Attend A Puppy Party. If you are close enough to Tulsa you are invited to attend your puppy's Puppy Party. These are days we set aside to socialize and train our puppies with novel people. It's extremely important that puppies are socialized from an early age, and we take this work seriously. You will get to meet other Austerlitz Shepherds owners, trainers, and ask questions, build community, and have fun while investing in important socialization for your puppy.
9. Pick up your puppy: Puppies are picked up on the first Saturday after they turn 9 weeks old. Please be sure you have viewed the Family Group webinars for Contract Review, and Puppy 101, before you pick your puppy up.   The balance of  $2500 (Puppy price of $3000 – Education/commitment fee of $500) is due in cash ON THIS DAY.   If you wish to pay your balance by personal check, cashiers check, or postal money order this MUST be done a minimum of 4 weeks prior to Pick Up day and by prior arrangement.   
Live Happily Ever After……But be sure to keep in touch!