Iveigh von der burg Austerlitz TKN CAT FITB OFA
Iveigh von der burg Austerlitz OFA
Hips: OFA Good: GS-106955G24F-VPI
Elbows: OFA Normal: GS-EL45111F-24-VPI
Cardiac: OFA Normal: GS-BCA126-24F-VPI-Practitioner
Dentition: OFA Complete: GS-DE700/24F-VPI
Degenerative Myelopathy: Embark Normal (N/N)
TKN: Trick Dog Novice
CAT: Coursing Aptitude Test
FITB: AKC Fit Dog Bronze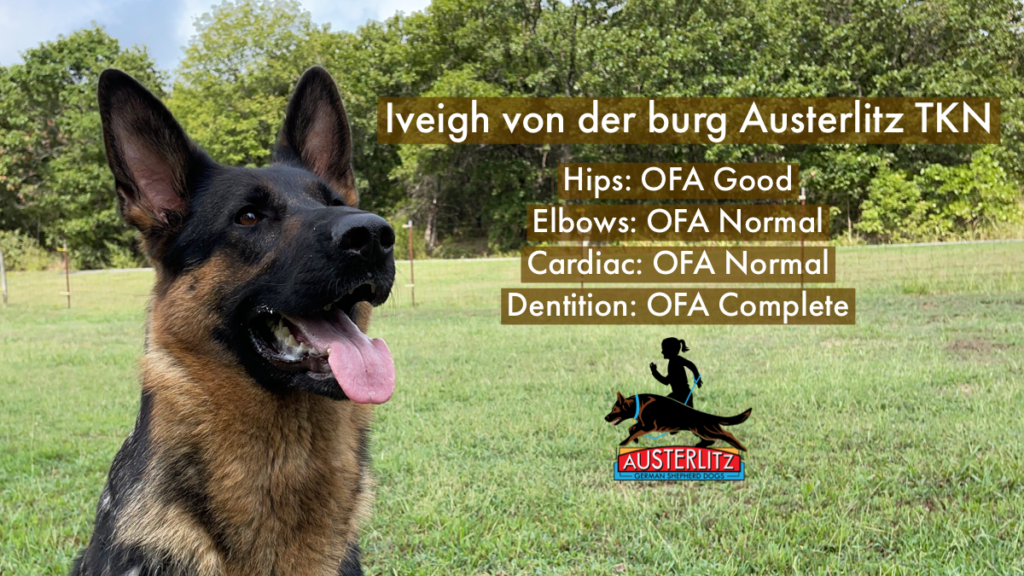 Pedigree Database
OFA Database
Embark Results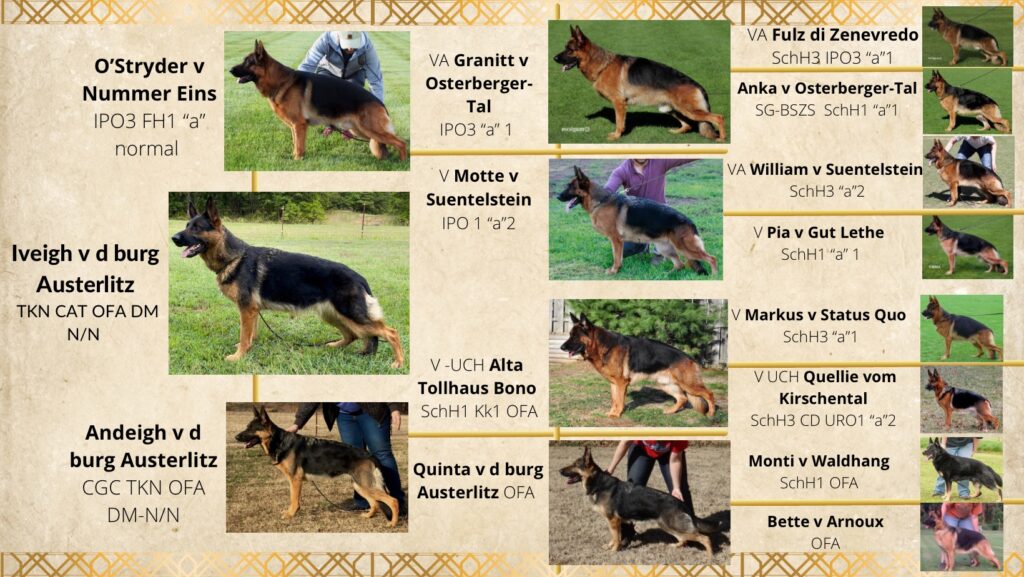 Iveigh is a beautiful, medium size, black and red daughter of our Andeigh von der burg Austerlitz OFA and a granddaughter of our top producing female Quinta von der burg Austerlitz OFA and through Bette von Arnoux OFA traces her lineage to our top producing male SG1 (MC Region Frisco von der burg Austerlitz Bh Wh Ob1 HIC AD OFA and his dam, our beloved Quinta von der burg Austerlitz Bh AD HIC CGC SchH1 (High Tracking-96 V) KKl2 OFA my very first German Shepherd and the founding female of our breeding program.

Iveigh is a super fun and high drive female with an abundance of enthusiasm for toys, play, and food. She truly lives her best day every day! She is an intense gal, and keeps Becca on her toes with her love of all things training and play.

An absolutely correct medium size, Iveigh has strong (but not heavy) bone, is obviously female without being doggy, has balanced angulations without extremes, a firm and level topline, and she is a rock hard, firm and dry female without any of the modern loosey goosey problems. Her overall type is very consistent for our program, being moderate, athletic, agile, and designed for a lifetime of activity. She lacks the extreme heaviness of bone, looseness, and overbuilt "piggy" head we are so often seeing in the modern German dogs, while showing the rich pigment, strong work ethic and instincts, and robust constitution that reflect improvements in the breed over the last twenty years. We are very excited to add her to our breeding program and look forward to all the adventures and fun we will have with her.