Quinta von der burg Austerlitz OFA
Hips: OFA GS-89348G27F-VPI Good
Elbows: OFA GS-EL29408F27-VPI Normal
Heart: OFA GS–CA1121/27F/P-VPI
DM: GS-DM3956/39F-VP1 Normal (N/N)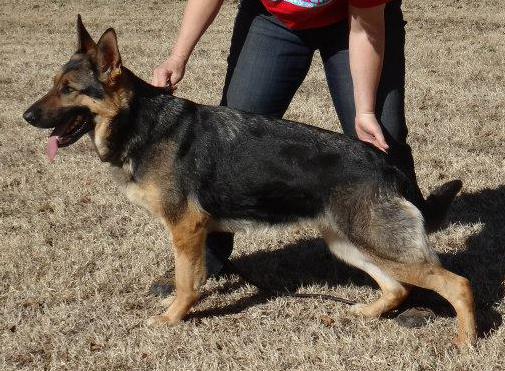 Pedigree
Monti vom Walfhang Bh SchH1 OFA
*Bandit vom Oberhausener Kreuz SchH3 IP3 FH1 "a"
*Berry vom neuen Lande SchH3 IP3 FH "a"
*Mücke vom Oberhausener Kreuz SchH3 "a"
*Urma vom Waldhang SchH3 "a"
*Boy vom Pendel Bach SchH3 IP3 "a"
*Falka vom Waldhang SchH1 "a"
Bette vom Arnoux OFA
V *Dryker von Wilhendorf SchH3 IPO3 FH1 OFA
VA *Solo von Frutteto SchH3 "a"
VA *Jade von Wilhendorf SchH3 "a"
SG Amelia vom Arnoux HIC OFA
SG Frisco von der burg Austerlitz Bh Wh OB1 AD HIC OFA
Schon Hailey von Harrell HIC OFA
Whelped: June 30, 2011. Breeder: Susanne Shelton.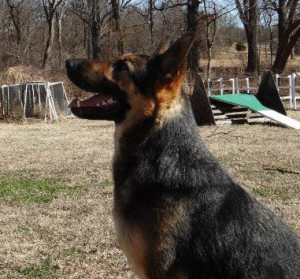 Quinta is a large (in standard), powerful, female sired by our German import Monti and out of the lovely Bette. Quinta is a richly pigmented black and tan female with very strong bone, high wither, strong back, powerful movement, who is correctly feminine. Quinta is very athletic, fast as a snake, and with amazing endurance. She has a strong and typical GSD build with none of the extremes of structure sometimes seen today.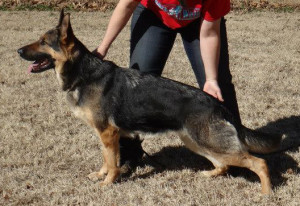 Quinta is named for her maternal great grandmother Quinta v. Westfork, who was Susanne's first GSD and her pedigree features many important dogs from our own program as well as many of Germany's finest producing dogs and bitches. Quinta is a granddaughter of the amazing producer, Dryker v. Wilhendorf (sire of some of our most accomplished dogs such as Blaz v. d. burg Austerlitz IPO3 HOT by Shanna B. and Jango v. d. burg Austerlitz IPO3 FH1 HOT by Dryker's HOT Monty S.) and a great grand daughter of Susanne's favorite Frisco (a Quinta v. Westfork son). Quinta is a daughter of Monti who himself has produced some very nice dogs for us such as Leopold v. d. burg Austerlitz VCD1 RE MJP NFP MXP HOT by Beth A. Quinta's pedigree is a blend of German working/show and a very little old DDR through the dog Primo v. Spezialblut SchH1 (a CH Neuman's Jim x Paula Trafalga son) HOT by a good friend of ours many years ago now.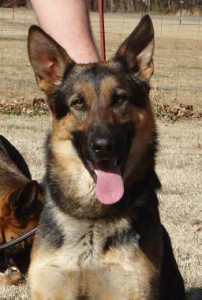 Quinta is an affectionate and happy dog, she is a happy and willing worker with natural handler attentive behavior. She has more than enough toy,food, social drive to please our training style and she is fun to work with. Quinta is easy to live with, she is good with our other dogs, and she is calm and mannerly in the house. Quinta is a super healthy and easy dog, she has no issues with allergy, digestion, joints or any other health problems, she is robust and vibrant.