Yoko von der burg Austerlitz
Titles: CD CGC
Hips: OFA GS-79050G24F-VPI Good
Elbows: OFA GS-EL22133F24-VPI Normal
Heart: OFA GS-CA415/24F/C-VPI Normal
Eyes: CERF GS-1400/2010–46 Normal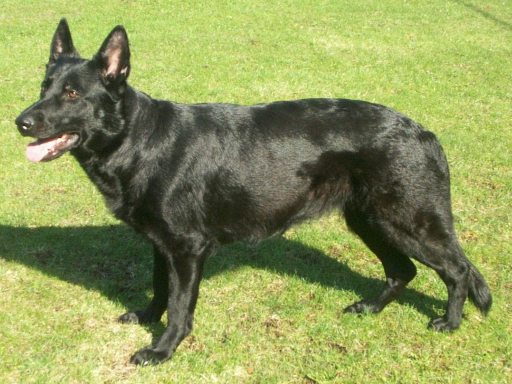 Pedigree
Donner vom Digarah SchH3 "a" OFA
*Dingo vom Nesselbach SchH3 "a"
*Aik vom haus Cindy SchH3 "a"
*Liv von der bösen Nachbarschaft SchH1 "a"
*Becky von Digarah SchH2 "a"
*Boy von Haus-Klonne SchH3 "a"
*Anouk von Digarah SchH2 "a"
V May v.d. burg Austerlitz SchH1 HIC "a" OFA
*Dundee vom Linsengericht SchH3 FH "a"
*Mungo vom Grossen Grauen SchH3 "a"
*Afra vom Linsengericht SchH3 "a"
*Eyleen von der Kaffeetwiete SchH1 "a"
V *Fero vom Zeuterner Himmelreich SchH3 FH "a"
*Dorle vom Milchborntal SchH3 IP3 "a"
Whelped: June 16, 2006. Breeder: Susanne Shelton.
Line Breeding:
Xando Karthago (5-4).
Trial Highlights:
AKC Obedience Top 10 (breed) 2008 and 2009!
AKC High In Trial (breed) with 194.5 points.
Earned her CD from Novice A taking a 1st, 2nd, and 4 place with no NQs.
From 10 trials at Novice Level (A and B) Yoko was in the ribbons 9 times!
Yoko has 1 leg towards her CDX earned with a 1st place score of 185.