Urban von der burg Austerlitz OFA
Hips: OFA Fair GS-97939F53F-VPI
Elbows: OFA Normal GS-EL36666F53-VPI
Cardiac: OFA Normal GS-CA1756/53F/P/VPI
DM: Gen Sol Normal 46100 N/N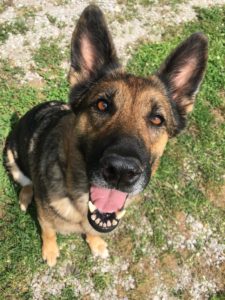 Urban aka Peach, is a beautiful, medium sized, red sable female sired by our Brego vom Arnoux and out of Apple von der burg Austerlitz.
Peach is a sweet natured, easy going, female who's main hobby is chasing squirrels and being a pleasant companion to everyone (human and canine) in our home.   She has a medium energy level as well as toy and food drive.   Peach loves to makes new friends and is part of our welcoming committee here, she is also very dog social and is a reliable playmate for dogs of both genders and all ages.
Peach's pedigree features many of our best producers and pillars of our program, such as her grandsire  Dryker von Wilhendorf SchH3 IPO3 FH1 KKl1, great grandsire SG 1 and Regional Youth and Adult Sieger Frisco von der burg Austerlitz Bh Wh OB1 CGC HIC OFA a son of our foundation female Quinta von Westfork Bh SchH1 (HIT/HIT Tracking) CGC HIC Kkl2 OFA.    On Peach's motherline you will find our foundation dog SG1 and regional Young Dog Sieger Hasso von der burg Austerlitz Bh Wh OB1 OFA, and the amazing Jackie von der Kinzigau Bh SchH3 Kkl2 "a".    Her pedigree stems from the top producers among German show, working, and old DDR lines and as such she's a great addition to our program.