Tip Tuesday: Quick & Easy Pacifiers
When I was a girl and my mom would take me shopping (boring!) she would give me a new book to take along. I would happily sit in the corner and read this book while Mom took care of her shopping. No fussy child meant my mom was able to relax and finish her shopping faster. We would do the same for long car rides, or when my parents had parties. In this case the book (or coloring book and crayons) kept me busy and also taught me to enjoy these events that might have otherwise really disliked.

Our puppies and dogs are not so different from that hyperactive bookworm of a child that I was. There are just SO many uses for pacifiers. A pacifier is a toy or chew given to a dog or puppy to engage them in a quiet activity for a few moments.

Now, if my mom had given me a book way over my reading level, say an adult novel with no pictures, tiny text, and words I had not yet learned, I might have given up on books. I might have even thought that books were terrible and I was a bad reader.

We often do something similar with puppies and pacifiers. We give our puppies pacifiers best suited to an adult dog, and one with great skill, learned through many hours spent experimenting and learning what works, what doesn't, and how fun it is to try.

But most puppies are easily discouraged if they can't succeed, and further, they may learn to give up when faced with a too difficult pacifier, because they are never successful. Then they generalize that too all types of pacifier challenges and they give up more easily in future.

So when you bring your new puppy home, realize that one of the important things you need to teach your puppy is pacifier skills, and pacifier enjoyment. These skills are arguably as important as learning to sit, or down, or heel.

Today's Tip Tuesday is beginner level quick and easy pacifiers, while these are "starter" pacifiers for puppies they are also great for adult dogs who have just never learned the joy of engaging with a pacifier, or even a pacifier savvy dog who just needs something to do for a moment.

Supplies I used:

Nylabone Dinosaur
Benebone Pawplexer
Cream Cheese
Peanut Butter
Purina ONE True Instinct Canned
Instant Oatmeal (unflavored plain oats)
Purebites: Freeze Dried Beef Liver
Kong Ziggies (1)

Assembly.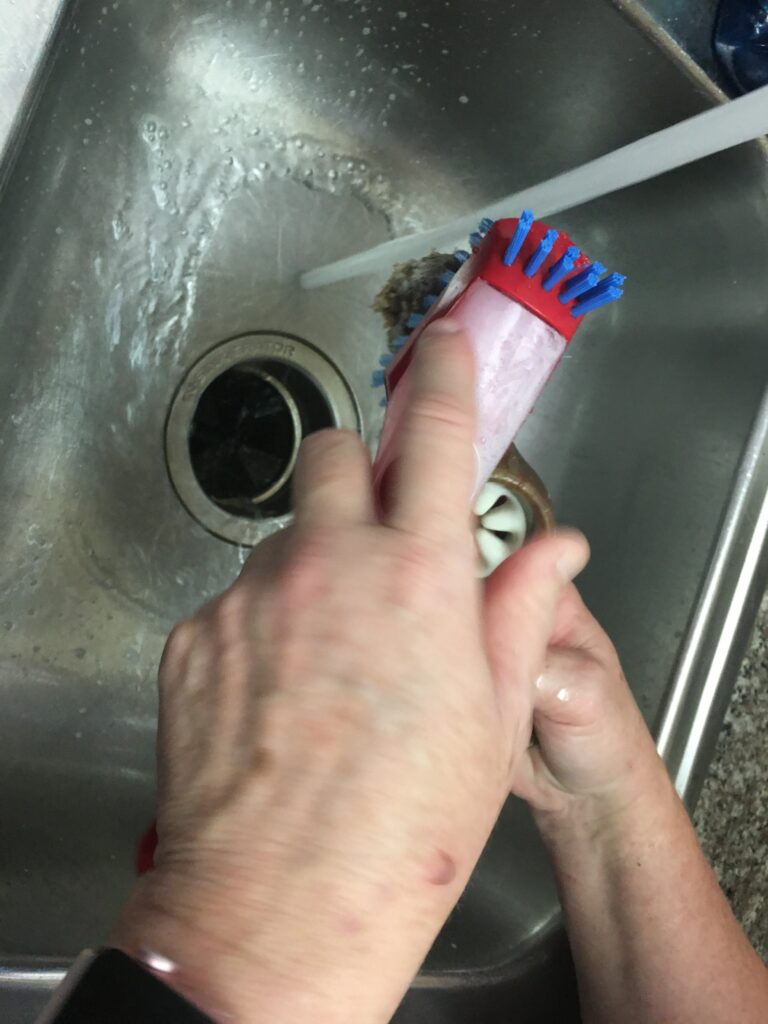 Step By Step Pacifier Prep.
Tips!
Dry clean toys "grip" the soft foods better.
Pasty thick cold soft foods are easier to smear on.
Pre freeze a cookie sheet, put cream cheese side down first for easier clean up.
"Pate" type ground canned food works best.
Make the oatmeal mixture rather pasty so it stays in place during freezing.
If you want to stick a chew (like the Ziggi, or a chicken foot) into the Benebone cavity do that before filling it.
You could use any soft but pasty food to smear on, such as canned baby meat, canned pumpkin, Greek yogurt, whatever stays put and your puppy's tummy can tolerate.
This is part one of a series on teaching dogs to use pacifiers. For part two, click here!
Throw us a bone? Below are affiliate links. You pay the same price, but we get a little from each sale.