Confident Crating: A Guide For The New Puppy Owner.
Wow! When we wrote this blog to help our puppies transition to their new home and retain their crate skills we never knew how needed this information was. After years of crate training our own puppies, and coaching clients through the crate training process with their puppies we now have an on demand course available year round! You can find information on Crate School: Confident Crating on our training website.
Crate training for puppies is long due for an overhaul. For too long a puppy's first exposure to the crate was being locked inside, left to panic, and then being "taught" to be crated by being ignored until it ceased crying.
Too long has the crate training standard been to induce learned helplessness when confined by ignoring the puppies vocalizations, not to gradually acclimate puppies to confinement. Then we wonder why so many grown dogs exhibit behaviors associated with barrier frustration/aggression, separation distress/anxiety, and a myriad of other confinement specific undesirable behaviors later in life.
New puppy owners often feel overwhelmed by the crying, puppies already sensitive to stress while transitioning to a new home are stressed further, potentially triggering separation distress, and a myriad of other potential undesirable outcomes become more likely.
There is a better way.  Instead of forcing puppies to give up complaining about confinement, we can easily condition them to be confident craters.
If you're a breeder or foster who cares for puppies from birth, please use our Crate Conditioning For Puppies: An Incremental Approach.
If you are bringing home a new puppy (from a breeder, shelter, or rescue) who has never been exposed to a crate, or who may have had unpleasant associations with confinement, you may also start with our free blog: Crate Conditioning For Puppies: An Incremental Approach or our on demand Crate School class for your foundation crate work.
If you are fortunate enough to be bringing home a puppy from a Puppy Culture or Crate School breeder, or a breeder who has used our (or a similar) crate conditioning protocol, you can easily continue that work by following these principles.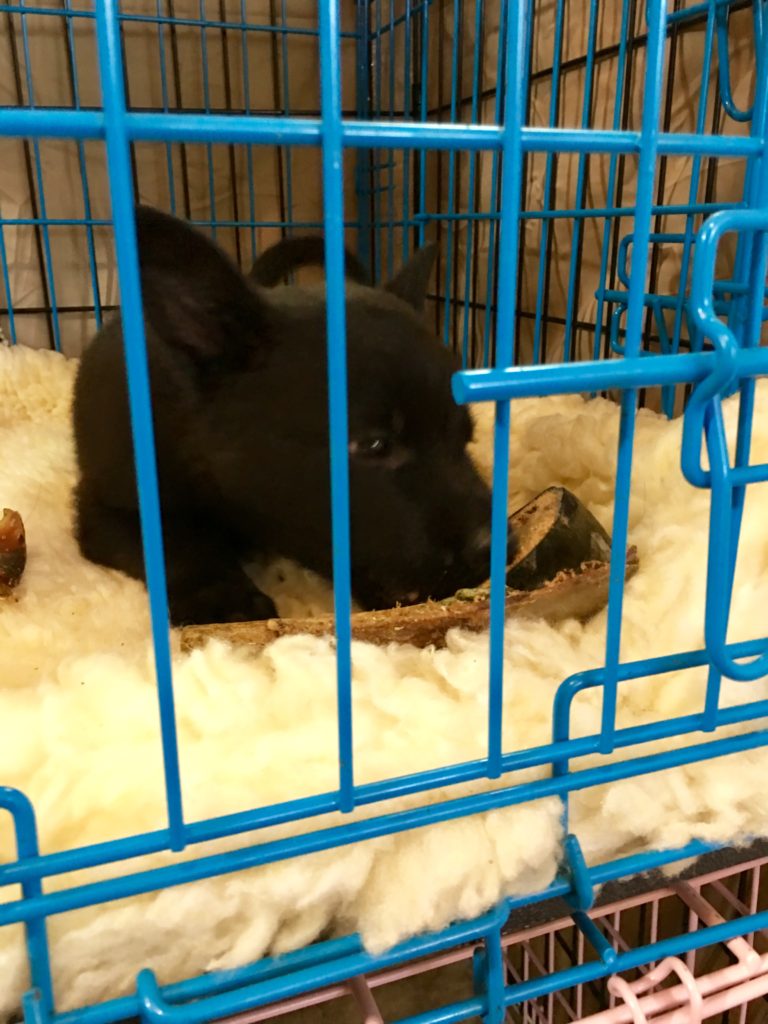 Leading Principle: Crates are where good things happen.
 Make the crate the "best bed in the house."
During crate conditioning, have the bed inside the crate be the only bed. We want our puppy to prefer to rest inside the crate, so make resting in the crate desirable with a good bed. It's a very good idea to have both a smaller night time crate in the bedroom, and a larger daytime crate in the living area.
When your puppy falls asleep, gently pick it up and place it in it's daytime crate to nap. Do this every time you find your puppy asleep outside it's crate. Close the door if you will be nearby to release the puppy when it awakens, or place an x pen around the crate.
Feed your puppy in it's crate if it's eating from a bowl.

Gradually teach your puppy to expect a few minutes of confinement after each meal.
Large breed dogs, such as my German Shepherds, benefit from crate rest after eating.  Teaching your puppy to expect to crate rest after eating also means you can feed your puppy right before the humans eat, and you can enjoy a "dog free" dinner time. Always provide puppies with a high value chew after eating, to help them relax and pacify themselves. Normalizing and using the expectation that grows from routine is extremely valuable. Consistency really does help puppies know what to expect. We build up to a two hour nap after each meal in our house. Dogs use this "digestion time" to nap, puppies need even more rest than dogs (around 20 hours per day as compared to an adult dogs 18) but scheduled nap time is beneficial for everyone.

Provide daily  "chewing" sessions in the crate.
Dogs love to chew, and puppies especially require chewing. The crate is the perfect place to provide this activity. When you can't directly supervise your puppy or when your puppy is due for a nap, pull out a pacifier and put your puppy in it's crate for a chew session. By pairing HIGH value chews with confinement you make the most of both the pacifiers you invest in, and teaching your puppy that being confined is great. Puppies need a lot of rest time, so take advantage of that time to create happy associations with confinement.
Be prepared to pair all duration crating sessions with high value chews for the first few weeks.
Collect as many types of chews as you can, stuff them them yummy things if they are stuffable, and provide them only in the crate. Puppies preferences change and develop as they age, and just like us they can get bored of the same thing every day, chewing is a basic core dog need anyway, so don't be stingy, invest in a wide variety of chews.
You find find more ideas and inspiration in my blog, The Power of a Pacifier.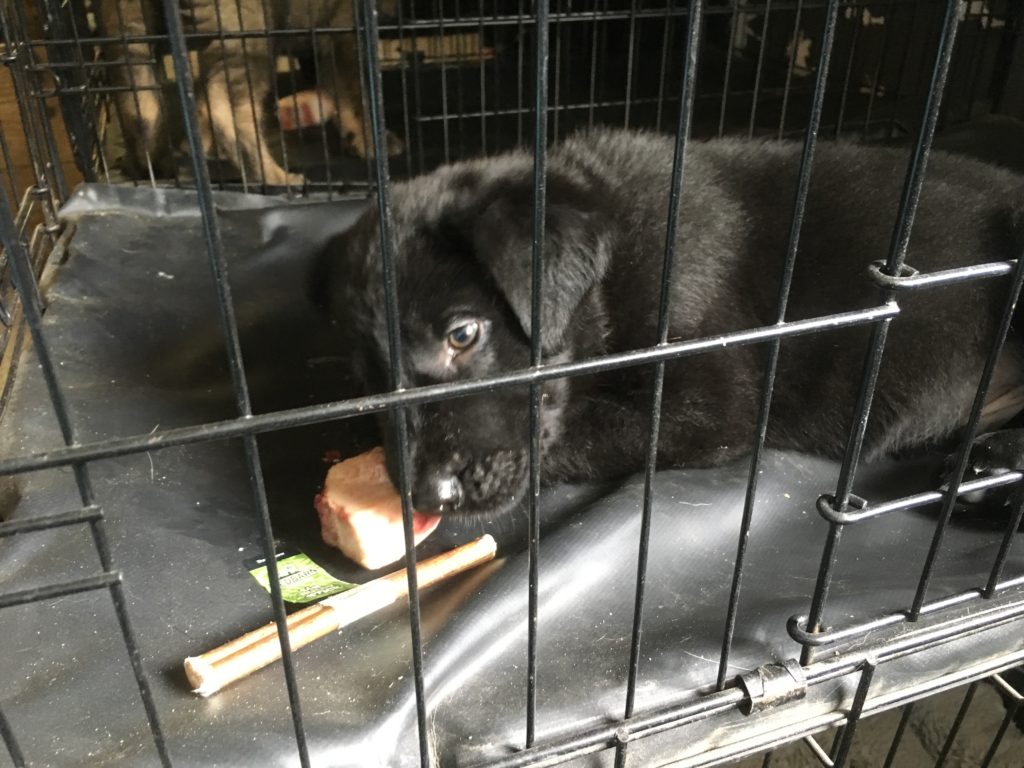 Crate your puppy at night, but not alone.
Puppies are sensitive to separation and will vocalize when they feel isolated. This is very strong survival instinct that has it's roots in the dog's evolution, long before it was a pet.
Here are some suggestions to bypass separation distress.
At night, crate your puppy on your bed, or place the crate at bed height right next to your bed. Your breathing and movement will help sooth a puppy and prevent it from feeling "lost" and alone.
Provide a large stuffed animal, or Snuggle Buddy, for the puppy to cuddle with at night.
For every night your puppy sleeps at least 6 hours without waking, you can move the crate 1 foot away from your bed until you reach the area of the bedroom where you would like your bedtime crate to be located.
Put a tired puppy to bed with the last person to retire for the night. Feed dinner at least 3 hours before bedtime, and take water up 1 hour before bedtime. Calmly walk the puppy for at least 10 minutes before putting it to bed.
If your puppy is fussing at night, offer it a chance to potty. Keep nighttime potty breaks "businesslike." Simply carry the puppy out, clip the leash on, and stand in one place for no more than 3 minutes while the puppy relieves itself. Do not talk, play or feed your puppy. Doing these things distract from the purpose of the potty break and can teach your puppy to wake you up for play and treats.
Be consistent in the nighttime pottybreak protocol. You want your puppy to learn to "ask out" if it needs to void in the night (otherwise, it may learn to void in the crate) but you don't want to teach your puppy that waking you up has ANY purpose other than going to the potty.
When 3 minutes is up, carry the puppy back to it's crate on your bed, place it inside, close the door and turn out the lights and go back to sleep.
Repeat EVERY time your puppy vocalizes in the night crate, your puppy will learn to ask out only to potty during the night. This process may take a week, so be prepared.
Do not offer chews or pacifiers in the Night Crate. Nighttime is for sleeping, and sleepy puppies need to sleep.
Soothing music, scents (such as Adaptal) and a cool room will help puppies sleep.
 Devise a routine and stick with it.
Puppies love routine because it's comforting to know what to expect. Find a routine that includes crate conditioning time.  Good examples are to crate your puppy after each meal, at human mealtimes, and the first 10 to 15 minutes after visitors arrive. Be sure to pair a high value chew with each duration session! Use the same routine when you leave the house – pair this with a high value chew and soothing sounds and scents. 
Provide high value pacifiers for car crate time too!
Be sure to take the time to condition your dog to traveling in a crate. Not only can this prevent barrier aggressive behaviors from starting, but it's safer for the dog and driver. Pair all car crate rides with high value chews at first.
Practice Crating on outings.
If you plan to travel or compete with your dog, it's worth it to condition your dog to enjoy crating anywhere. Purchase a "tent" or cloth crate that's easy to carry and take it to training classes with you. Crate your puppy (with a pacifier) during class down time when your instructor is teaching or other dogs are working. If your instructor includes mat training (yay!) place your mat inside your tent crate to do some of your mat work.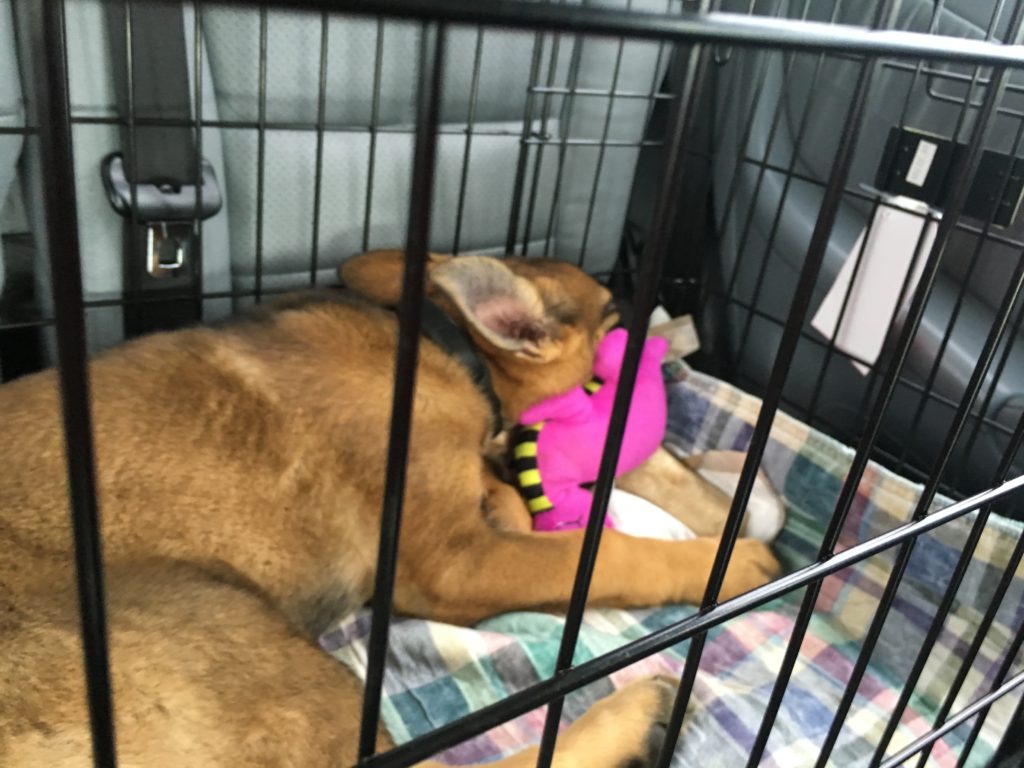 Some common and not so common sense tips.
Don't crate your puppy too much. It's unhealthy for their body and mind – a crated puppy isn't being socialized or learning any life skills. Yes, puppies need crate time every day, but they do not benefit from being confined too often.
Play lots of crate entry games!   Have someone hold the puppy while you run and put it's food bowl inside the crate. Next, call the puppy with your crate entry cue – this is also your helper's cue to release the puppy! Cheer the puppy while it's running to the crate and praise while the puppy enjoys it's meal.   Play lots of these types of games.
"Bait" your crate ahead of time.   If you put your puppy's chew in the crate and close the door, the puppy will REALLY want to enter the crate!   Plan ahead and bait the crate with your chosen pacifier 10 to 30 minutes ahead of scheduled crate times, then call your puppy to crate up with your crate entry cue, open the door, and voila…your puppy loves to run into the crate!
Don't bribe your puppy to enter the crate.   If your puppy is reluctant to enter the crate, do more of number 2 and 3, but avoid at all costs bribing your puppy to enter the crate.   This will backfire!   It's actually better to pick your puppy up and place it inside the crate than to bribe it to enter the crate.
If your puppy is reluctant to enter the crate, figure out why and fix the problem!   Don't be tempted to bribe or trick the puppy to enter the crate, that will backfire!   Consult with a skilled positive reinforcement trainer if needed.
Do you need help crate training your puppy? Or are you a breeder who wants help building a crate conditioning plan into your puppy raising protocols?
Distance coaching is available and we are very happy to help, contact us to find out more!