Puppy Price and Placing a Deposit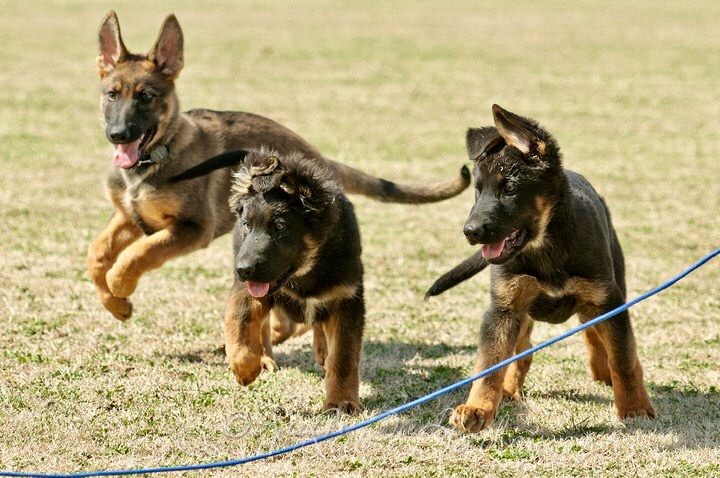 Puppy Price: $2000
We are dedicated to giving each puppy the best start possible.  Every puppy is raised in our home from birth until they leave for your home.   Puppies are trained and socialized extensively by our team of professional trainers.  For a complete overview of our training and socialization protocols please visit the How We Raise Our Puppies Page.
Included in your puppy's price:
Super Duper Puppy
Puppy Wellness Check Up by our Veterinarian.
Lifetime of expert training and behavior support.
AKC Registration (Limited) fully paid and transferred into your name.
30 days complementary pet insurance (through AKC).
Microchip, collar tag, and lifetime enrollment paid.
Puppy Culture: VOD or DVD (your choice)
Puppy Culture: DVD, Puppy Scent Games
Puppy Culture: DVD, Attention, the Mother of all Behavior
1 "Familiar" (toy or blanket with mother's scent)
Puppy Start Right: Book
Fromm Gold Puppy: 17 Pound
1 Cup Measure
Fromm Gold: 13 oz can.
Kibble Nibble: Large Size
Clicker and 1 pound Happy Howie
Complete record of all health care.
Training and Socialization record.
Puppy Fitness that Fits The Puppy: Booklet
Bully Stick, Hoof, and Marrow Bone.
We have designed our puppy pack with items carefully and thoughtfully chosen to help you make the most of your Austerlitz Puppy and to help as you transition your puppy from our care to your family smoothly.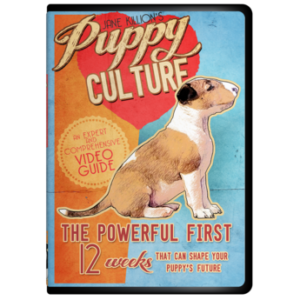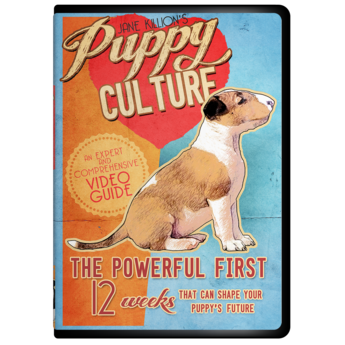 Puppy Culture: Before your puppy arrives in your home you will be provided with a VOD or DVD copy of the film Puppy Culture.   We started implementing the amazing puppy raising and training protocols from Puppy Culture over two years ago and we have never looked back.   With your own copy you will be able to follow along with us as we raised your puppy from birth, until it leaves to join your family.   You will then be able to continue your puppies education at home, following right along with the new family portions of the film.   Training, socialization, how to find a safe puppy class, it's all in there!
A large bag of Fromm Gold to get you started.  We use and recommend Fromm Famly Foods for their high quality USA source ingredients, commitment to food safety, and value.   Puppies are fed the highest quality diet to ensure they are in the best condition possible.
The Book: Puppy Start Right.  Puppy Start Right is our favorite puppy book, it has all the skills, problem solving, and training information you need to ensure you puppy grows into a mannerly companion.   It works perfectly with the Puppy Culture protocols and training we start with the puppies.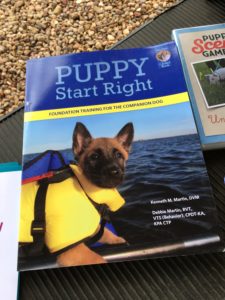 Kibble Nibble: Size Large.   Kibble dispensers are an amazing and easy way to turn meal time into satisfying mental exercise.  We offer the puppies snacks from a Kibble Nibble starting around 5 weeks.   The puppies love pushing the nibble around and learning how to get the food out.   You can continue this at home, using your Kibble Nibble for part, or all, of your dogs meals.  You can also use the Kibble Nibble at those times when your puppy is bored, restless, or getting into trouble.  As a safe, tiring, and engaging activity.  Preventing boredom through enrichment items like Kibble Nibbles easy and fun.   The Fromm Gold Kibble size works great in Kibble Nibbles.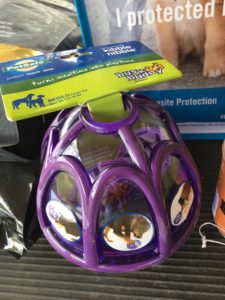 Your puppy will have learned many things, and we hope you will continue your puppy's training.   Training puppies early prevents undesired behaviors and habits from starting, teaching desired behaviors and builds good habits, plus it's so much fun!   We include a clicker and 1 pound Happy Howies so you can start right away!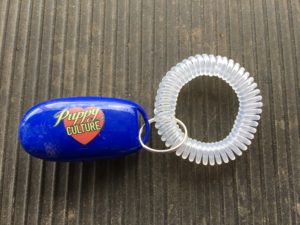 To help you exercise your puppy safely, we include the information packed booklet, Puppy Fitness That Fits The Puppy.   This provides and overview of how to safely exercise your puppy, as well as age appropriate exercise ideas.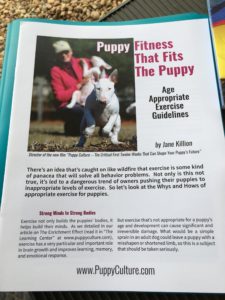 We are always looking for items and resources that will benefit our clients and their new puppy!
"You truly do an amazing job, Susanne.  Maverick is the best tempered dog with the sweetest personality and he is so smart.  Everyone is impressed by him and his social skills.  We love him so much".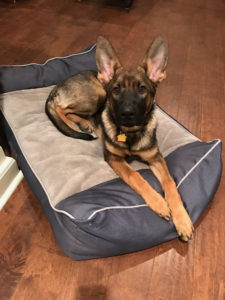 Vanessa and Maverick (D Litter: Sylar x Babsy)
Deposit: $500 (This amount is included in your purchase price, NOT in addition to the purchase price).
Deposits are only accepted once you have worked through our approval process.
Deposits are only accepted once a pregnancy is confirmed, or once a litter is whelped.
Deposit does not guarantee a puppy, if placed before birth, and the color/gender/coat you desire is not present in the litter.  In that case your deposit will be refunded, we do not hold over deposits for a future litter.
Return clients are given preference.
Puppies are selected and placed in the order deposits are received.  Great care and consideration is given to selecting just the right puppy for each family.   We invest time in getting to know our families, so we can select the best puppy for each persons situation and needs.
Please note: Not all who apply for a puppy are approved. We do not produce enough puppies to meet the high demand for our puppies, because we are not high volume breeders.  This means some wonderful families must be turned away.   We suggest starting the approval process early.   We do not do ANY impulse placements, please do not enquire if you are looking for a puppy today or "this weekend" our process is deliberately slow.   We want to get to know each family, and they us, before placement to ensure our clients and our puppies have their needs met.
Typically puppies are spoken for before birth, or very soon after birth.   We strongly suggest starting the approval process well before the puppies are born.