We are very excited to announce the H Litter v d burg Austerlitz.   Yay Luna puppies!
Items of Interest:
Date of Birth: September 16, 2018
Available:  Hedwig von der burg Austerlitz 

Hedwig is an outgoing confident solid black male suitable for an active companion home.  Hedwig has tons of potential for sport, or other advanced training, and he's also a fun and easy puppy to live with.   

Hedwig was reserved but his family was unable to take him at the last minute due to a family emergency.   So he's available. 

He is good with other dogs, has been raised with Puppy Culture, and has had a very solid postive reinforcement puppy training foundation.   
Hedwig (Oberon) at 12 weeks.   


Sire: Bronte z Rodina Straze OFA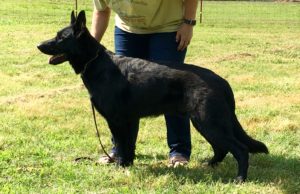 Dam: Luna von der burg Austerlitz Bh IPO1 OFA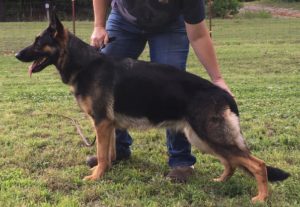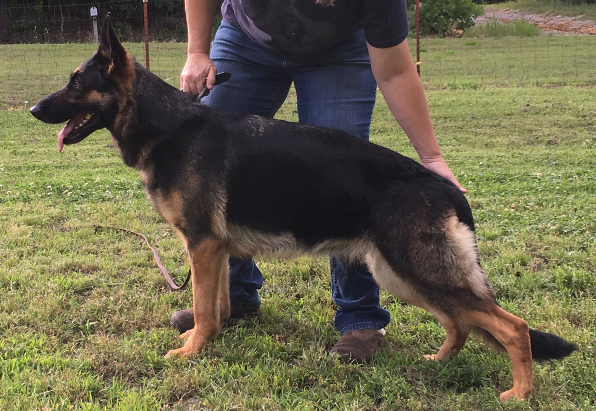 We are expecting upper medium size dogs with athletic structure, strong bone, and dark color (solid black and bi color expected).
These puppies will do best with an active owner or family that enjoys including their dogs in their activities, such as hiking, jogging, long walks, training classes, camping and all other manner of togetherness.   Of course, these puppies will also be great prospects for advanced training and sport.  Whatever they do, they will want to do it with a family that enjoys their company and wants to include them.
As is always the case, if you are looking for a "yard dog" or a low energy never does a thing type dog, ours is not the breeding program for you.   We are looking for owners who love their dogs and love doing things with them.  We want our puppies to have rich and interesting lives!
If you might be interested in a puppy from our H Litter, please take a moment to review some pages of interest.
2. Puppy Price, Puppy Pack, and Placing a Deposit.
3. Our Facebook Page: Austerlitz German Shepherds.  On the FB page we post real time updates, videos, and under Photos-Albums-H Litter an album devoted just to this litter.
4. Visit both parent's pages for more information on the sire/dam.
5. Contact us!
We will continue to post updates on Luna's pregnancy and as we raise the H litter on this page!
August 16, 2018
After nearly two years of effort, Luna is pregnant!   Ultrasound revealed 10 or more puppies!
Luna whelped 9 healthy puppies on September 15th!   Mother and puppies are all doing well.
On September 18 we started Early Neurologcial Stimulation.  ENS "jump starts" the puppies neurological system, it's also called the "super puppy" protocol, and it has been shown to make the most of a puppy's inherited potential.   When they grow up puppies exposed to ENS are healthier, more fit and athletic, and learn tasks more easily.
This is an H Litter, so all the puppies will have registered names starting with H, but we always do a theme to choose "call" names for each puppy.   You can't raise puppies who don't have names!
To honor their monther, Luna, this litter is all named after moons!
Day 7 through Day 14. (Neonatal Period, week 2)
During this period ENS continues.
We want our puppies to grow into the healthiest adult dogs possible, so we perform ENS as part of the Puppy Culture puppy raising protocols.
Did you know that the mothering style can affect how well adjusted puppies are as adults?   Studies indicate that mothers who lick and tend their offspring more often have offspring that grow into better adjusted adults.
Our mothers are excellent and spend nearly 24/7 laying with the puppies in the first 14 days, we have to cajole them into leaving their puppies to potty and eat.   But just to be sure, and to help puppies learn to love brushing, we start almost from birth brushing the puppies with a soft baby brush every day during their individual handling sessions.
Other tidbits from the first two weeks.
Puppies are handled invididually every day, this time includes brushing, cuddles, and (very importantly) nail trims.
Puppies are offered supplemental bottles.   For small puppies like Portia bottles are offered twice per day or more, since she gets pushed out by her larger littermates.
But all puppies are offered a few supplemental bottles, not only does this save a little stress on the dam's body, but it also conditions the puppies from the very start that human handling is wonderful.
Some random snapshots from days 7 to 14.
Day 14 to 21 (Week 2) The Transitional Period
We know the puppies have entered the transitional period when their eyes open, they can hold their heads up, toddle instead of drag themselves to move around, and they are able to lap liquids.
We are continuing to handle each puppy daily, trim nails, and groom them.   Now they are able to lap liquids, we are also offering a little bit of goat milk in a shallow pan.
Here is a weekly update on the Hs, and their first attempt to lap liquids.
Week 3 to 4:
The puppies have now entered the first week of the Critical Socialization period, a period of exceptional importance in the life of a dog.   We want our puppies to grow into the most adaptable and pleasant companion possible.   By doing just the right socialization, in the right amount, and in the right time, we can give our puppies the confidence and adaptability to help them be the best companion they can be.
We have a lot of work to fit into the next 6 weeks, so keeping organized is important.   We have goals for each puppy!