"F" Litter von der burg Austerlitz
Sylar v.d. Kinzigau CGC OFA x Sterlyn v.d. burg Austerlitz OFA
We are always excited about each breeding we plan, but the Sylar x Sterlyn breeding is particularly exciting! We expect large powerful dogs with strong bone, athletic structure, strong drives for training, robust health, and confident outgoing temperaments in solid black, black factored sable, and sable. These puppies will be great for family companions/protectors as well as being great training prospects for all manner of dog sport. We are expecting plenty of social, toy, and food drives to make training a joy and calm confident temperaments to make living with them a joy as well!
We will be using Puppy Culture protocols to raise these puppies, so they will have every advantage from the moment of birth until they leave for their new families. You can learn more about those protocols here and be sure to visit our How We Raies Our Puppies page.  We will also add weekly updates for the F litter below the pedigree on this page.
"F" Litter Dates and Points of Interest:
Date of Birth: May 14, 2017.
Send Home Weekend: July 21st
Males: 2 black males are available: Raven and Junco
Coats: stock coat only
Photos: Visit our FB page under Photos – Albums-F Litter
Be sure to page down, below the pedigree is our weekly update!   Follow along with us as we raise and train the Fs!  
Please contact us should you be interested in a puppy from this litter.
---
We have been exceptionally pleased with Sylar's puppies. They are uniformly outgoing and confident with a good balance of drives for training in a variety of dog sport, yet they are very good natured dogs, without excessive energy, who are also wonderful companions in the home. Sylar is producing large dogs with very strong bone and rich pigment. Sylar, imported from Germany and bred by our good friends at Kinzigau, has a pedigree loaded with Germany best producing working lines including very strong females and world class males. We are pleased to have him in our program and we have been very happy with the qualities of his progeny.
We are very excited for the F Litter.   While this is Sterlyn's first litter we have lots of reason to expect excellent quality in her litter sired by Sylar.   Her dam, Disco, produced a wonderful litter (our W Litter) by Sylar, and Sterlyn's paternal half sister, Quinta (also a Monti Daughter) produced two outstanding litters (Our Y Litter and the recent E Litter) sired by Sylar.   So we expect another great click between Sylar and Sterlyn.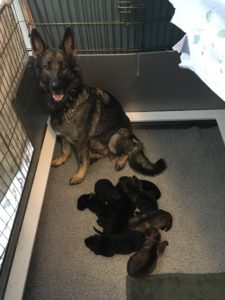 ---
Sylar von der Kinzigau OFA
V *Veit von der Salztal-Höhe SchH3 FH1 "a"
V *Branko vom Salztalblick SchH3 IP3 FH2 IPO-FH "a"
G *Maja vom Haus Cismar SchH3 IP3 FH1 "a"
SG *Cecca vom Geestland SchH3 "a"
V *Falk von der Bayuwaren SchH3 IP3 "a"
SG *Wendi von der Wannaer Höhen SchH3 "a"
Sterlyn von der burg Austerlitz OFA
Monti vom Waldhang Bh SchH1 OFA
*Bandit vom Oberhausener Kreuz SchH3 IP3 FH1 "a"
*Urma vom Waldhang SchH3 "a"
Disco von der burg Austerlitz OFA
SG Pyro von der burg Austerlitz Bh AD HIC OFA
Nova von der burg Austerlitz HIC OFA
Anticipated Whelp Date: May 12, 2017. Breeder: Susanne Shelton.
Weekly Update:  F Litter.
Join us here for weekly updates on the progress of the F puppies.
Week 0 (days 1 – 7):   Sterlyn delivered 8 healthy beautiful puppies on Monthers Day (awwwww!).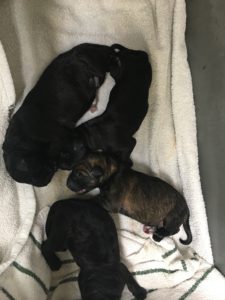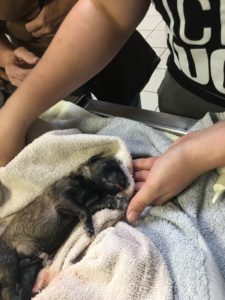 During the first week puppies concentrating on sleeping and eating, and mum provides constant attention.   Baby puppies can't void by themselves, nor can they regulate their body temperature, so Sterlyn has devoted all her time and energy to feeding, cleaning, and keeping them warm.   She only leaves them for a short amount of time to potty.   Like her own mother, Disco, Sterlyn is an outstanding mother, quickly bonding to her puppies, learning how to tend to their needs, and to avoid any behavior that might injure them (like getting up and moving around without thinking about where she puts her feet).
Important Week 1 Milestones:
1. Puppies double in weight.  Failure to gain weight is linked to puppy mortality, so we are pleased to see the puppies all gaining weight quickly.
2.  Early Neurological Stimulation (ENS) starts and continues through day 16.
Week 1 (Day 8 – 14):
The puppies get their nicknames this week!   The theme for this litter is birds.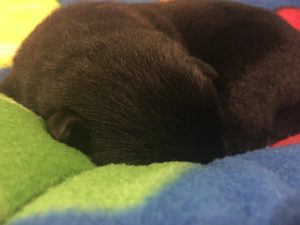 Raven:  No Collar Black Male.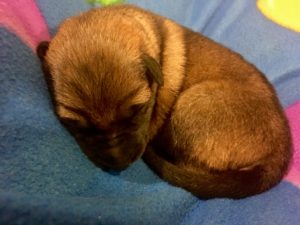 Finch:  Sable Female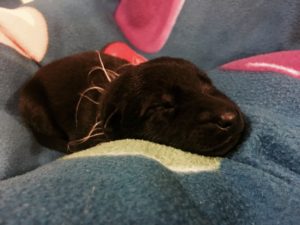 Junco:  Yellow Collar Black Male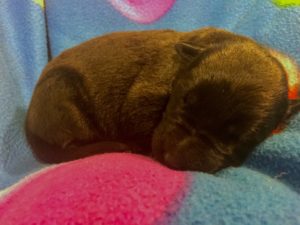 Wren:  Black Female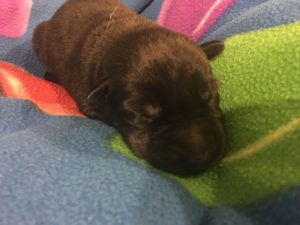 Heron:  Green Collar Black Male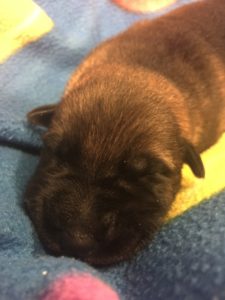 Lark:  Sable Male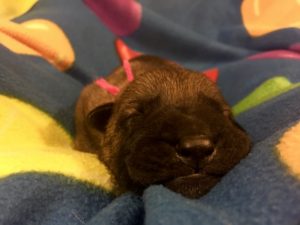 Robin: Pink Collar Sable Male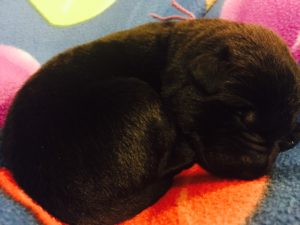 Swan:  Purple Colar Black Male.
Also in Week 2, ENS continues.  ENS is the first of many Puppy Culture protocols we will be implementing with the Fs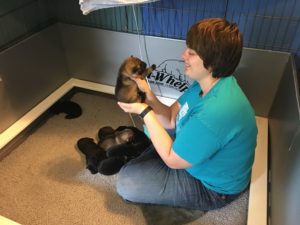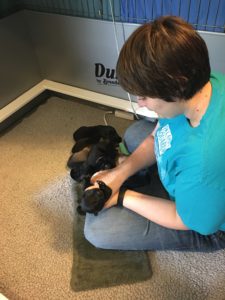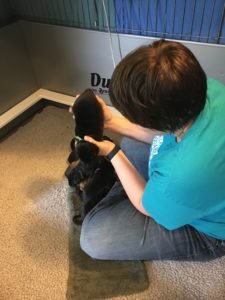 ENS helps to stimulate the puppies adrenal system, providing lifelong benefits to cardiac function, adaptation to stress, and a stronger immune system.
During Week 2 the puppies continue to grow and gain weight and while they can now control their body temperature and no longer require supplemental heat, they still love their heating pad!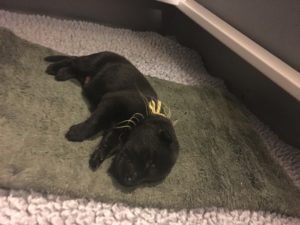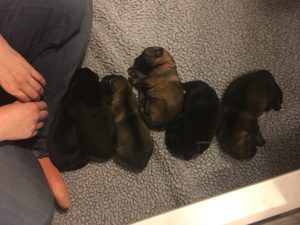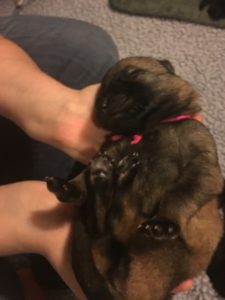 Towards the end of week 2 the puppies receive their first visitors in the form of friends and nannies (dogs skilled in caring for and teaching puppies).   The Nannies have been dying to meet the new puppies!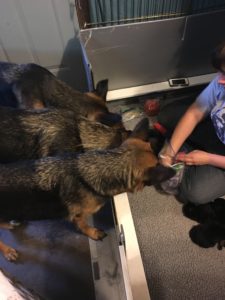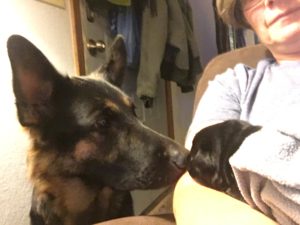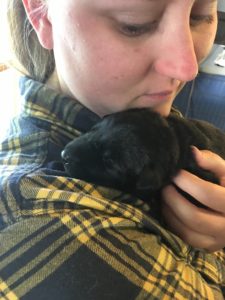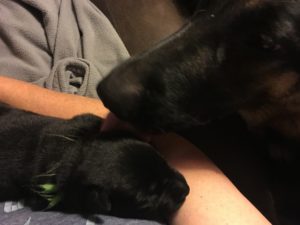 Once the puppies enter the critical socialization period (3 weeks to 12 weeks) the nannies will be important teachers for the puppies.  Right now they have to be happy with sniffs and kisses.
Most exciting on Day 13 some of the puppies have started to open their eyes!   This signals the beginning of "waking up"!   Soon the puppies will start to explore each other, play, and communicate.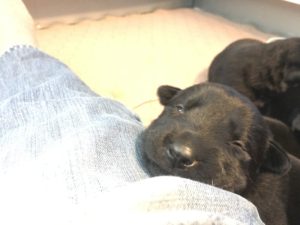 When puppies are born their eyes are sealed tightly shut to protect the undeveloped eye as it continues to mature.   Indeed, the eyes are so delicate that bright light can permanently harm them. Around two weeks the eyes are ready to receive light, and they start to open, but it will be weeks before the puppies see like an adult dog.  If you note a bluish cast to their eyes in these early pictures, don't be alarmed, this is a membrane that protects the eye and slowely decreases as they get older.
Week 2 (days 15 – 21)
ENS concludes today early in week 3.  More visitors arrive as the puppies start waking up.
The puppies also continue to get regular nail trims, we mostly trim the front nails, to save scratching on Sterlyn's breast, and to ensure there is enough nail on the rear legs to give the puppies traction (so they can build strong muscles).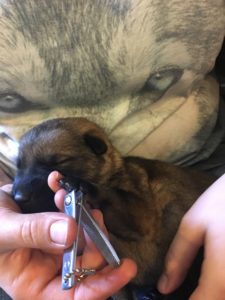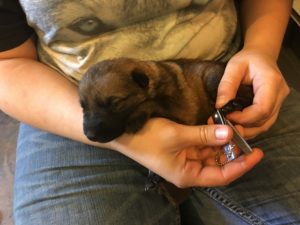 Most of the puppies have opened their eyes now, and they are starting to show signs of awareness!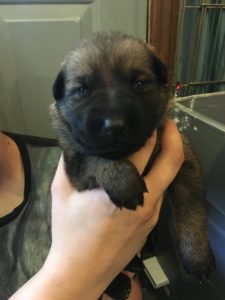 On Day 15 we install the puppies first litterbox.   While this will be expanded as the puppies get older and "more aware" this first litterbox is a simple potty pad.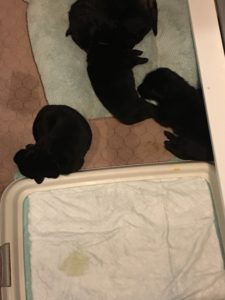 We also add a small bed at the same time, to introduce the idea of a "resting" place and a "potty" place.   Puppies have a natural instinct to keep their resting area clean, we want to cultivate that.  Clean puppies are easier to house train, crate train, and have fewer accidents as adults.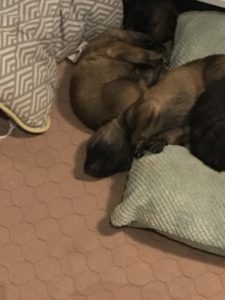 It takes a bit of practice before the puppies figure out how to bed!
Towards day 20, the puppies enter the Transitional Phase (see How we Raise Our Puppies for more info),  they become aware of their siblings, themselves, and us.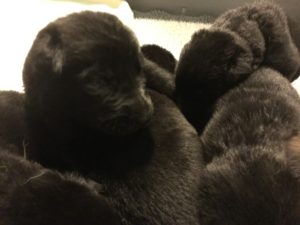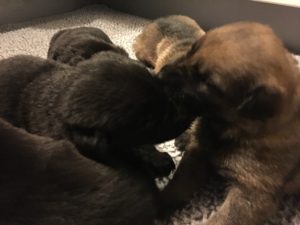 Eyes and ears are open, and the puppies are "waking up" to those around them.   They are starting to play with each other, and respond to us.
Week 3: Day 21 to 28
There have been lots of big changes this week.   We observe the puppies carefully during this time for developmental markers that let us know what protocols the puppies are ready to benefit from.
Early in this week, the puppies were starting to show the startle response, and we are taking advantage of this small developmental window to help "prime" their systems to recover quickly from the startles and surprises of life.
Later this week, the puppies have really started to practice their communication signals.   These body language signals are a dogs primary form of communication, they are hard wired into dogs, and during this age we start to see the puppies "practicing" how to communicate with each other.  On the Puppy Cam you will see lots of posturing, growling, biting, and roughhousing as the puppies learn how to use these signals.   This behaviors peaks around three to four weeks, before growing into the more nuanced behavior of the junior puppy.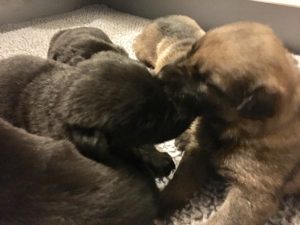 As the puppies are more aware of their surroundings we also begin changing those surroundings often, we don't want our puppies to fear change!   So this week you'll notice the pen gradually gets enlarged, new novel items are added to the pen every day, some of these are regular toys, some are unique textures, sounds, or surfaces.   A favorite of puppies this age, is a mobile!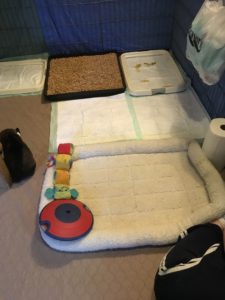 Expanded weaning pen, puppy toilet, bed, and small wobble toy.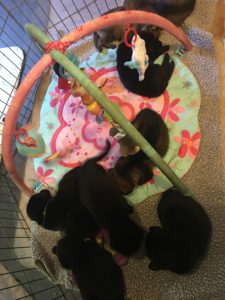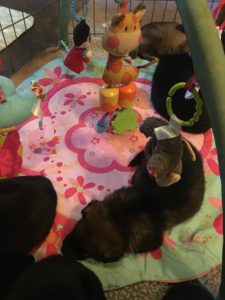 A favorite of puppies this age is the puppy mobile.  Each toy is different, some makes sounds when touched, others are tugable, others have unique texture.   We change these daily.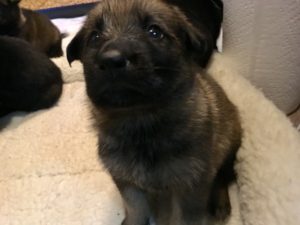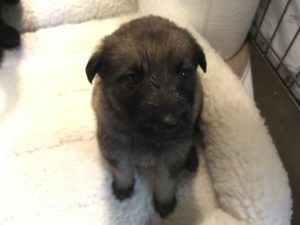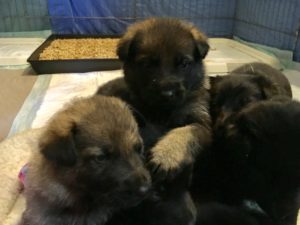 This week the puppies start to see better, their favorite place to look, our face!   They love to sit and stare at us.
Things will really get interesting in Week 4, as we start the Puppy Culture Communication Trinity with the puppies!
Week 4 (Day 28 – Day 35)
The puppies continue to grow, and the mental development continues.   The Fs now both offer, and respond to, the other puppies communication signals.   You will see lots of roughhousing and play on the puppy cam this week.
The Fs are now on a regular schedule.
Upon waking, we do a rapid clean up of the mess from he night before, and the puppies are let out of the weaning pen to run around and play in the kitchen and living room.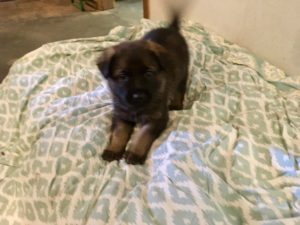 This gives them lots of room for exercising (this week puppies are spending a lot of time practicing running, and getting on/off all the dog beds).   After exercise time they get breakfast.   The Fs are currently eating puréed kibble (Fromm) three times per day.   Right after breakfast is potty and nap time.   Puppies are placed back in their weaning pen, so we can help them remember to use their toilet!
We repeat this at lunch and dinner each day.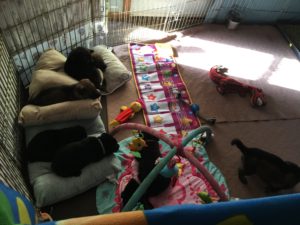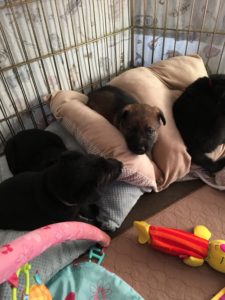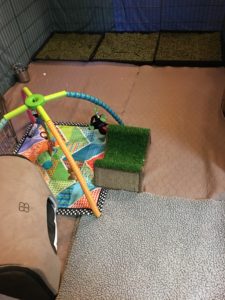 We continue to work with the Fs litterbox training, the puppies have a larger sleep, play, and toilet area.   While they are not mature enough to make it to the litter box every time they need to urinate, they are trying and most of the pee spots are moving close to the toilet.   Poop has more "advance notice" so the puppies are getting really good at going to the toilet to poop.  Yay!
More visitors come to visit and socialize the puppies.   We also want the puppies to get used to the sound of visitors and the associated noises in the house.   So this week my awesome sister, our good friend Joe, and my mum came over to socialize the puppies, help with some training (manding), and then the puppies were put in their weaning pen while we had dinner.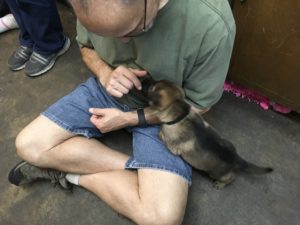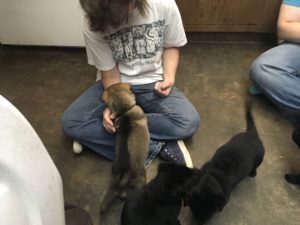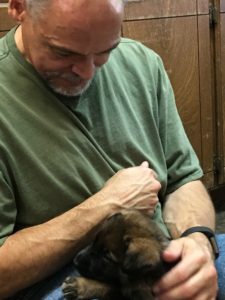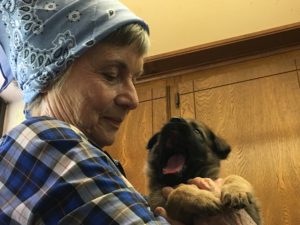 Mid week the puppies got a weaning pen upgrade!   The puppies are doing so well with their litter box training that we have given them more space and started their crate conditioning program.
As the puppies development warrants it, we've made these age appropriate upgrades to the weaning pen.
1. More space for play!
2. Four small "beginner" puppy crates.
Each baby crate (3 wire, and 1 plastic) have the doors removed, and a comfy bed inside.   This starts the process of conditioning the puppies to LOVE their crate!
So, now the puppies have a toilet (R), play (center), no crate (L) area.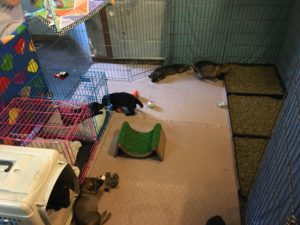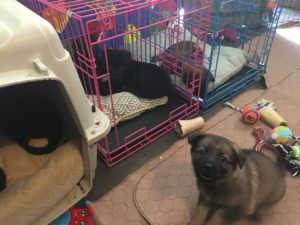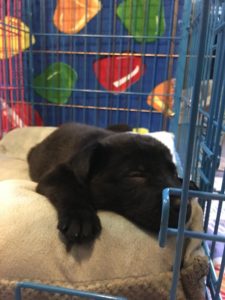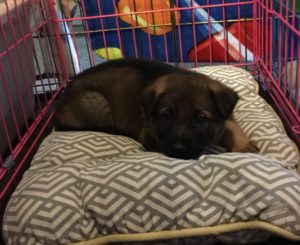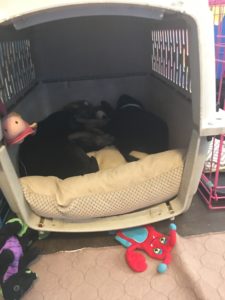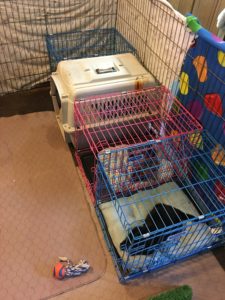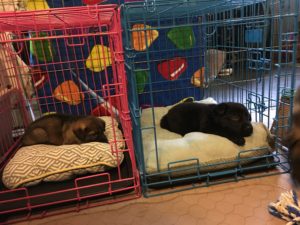 The puppie are already excited about their crates, and have been napping in them ever since!
Most fun of all is we have started the Puppy Culture Communication Trinity.  This amazing set of puppy training exercises starts with.
1. Powering up the clicker (video on our FB page).
2. The Box Game (video on Facebook) to teach the puppies how to use their behavior to control consequences.
3. Manding:  How to communicat their needs to us through sitting instead of whining, barking, jumping up, or other natural but less desireable behaviors.
You can find videos of all training lessons on Facebook!
We are so excited to be entering the most enjoyable (and busy) weeks of puppy rearing, as we work hard to give our puppies the best start possible, and to prepare them for their new homes.
Week 5
The puppies have been growing like mad, and learning so much!
From Puppy Culture we have started the Communication Trinity, starting with clicker training.
Clicker training is a very precise form of marker training.  Postive reinforcment based marker training helps puppies learn, from the earliest age, how to behave in order to control the consequences, this type of thinking produces more throughtful and calmer puppies, who are easier to teach.
Week 5 Lessons include:
1. Powering Up The Clicker
2. The Box Game
3. Manding.
Each of these lessons is carefully designed to teach the puppy a valuable lesson needed for future training and learning.
You can find a video of each lesson on the Austerltiz Shepherds Facebook page (Under Videos).
Crate conditioning is going well also, the puppies started eating their meals in the their crates, in groups of 2, and they often choose to nap there as well.   Yay!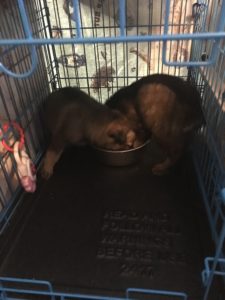 Week 6 
Week 6 was a big week for the Fs!
They have been loving their outdoor play yard, which opens from a doggie door out of their weaning pen.   But don't worry, they rarely go out without their nanny, Zahra and  junior nanny in training, Andeigh.
Also during Week 6 we expanded the Fs weaning pen to it's full size.   It now takes up the entire dining room, and has 8 full size crates so we can continue the puppies crate conditioning program.
The puppies have met the first two goals of our crate conditioning program.
1. Puppies are choosing to use their crates for resting and naps.   This is important, since we want the puppies to always choose to spend time in their crates, forcing confinement on puppies has been linked to anxiety and separation anxiety in adult dogs.
2. Puppies are eating meals in their crates, with the door closed, entering happily and asking out politely by manding.
With these two important goals met, we can now move on to the puppies spending more time in their crates, that starts in Week 7.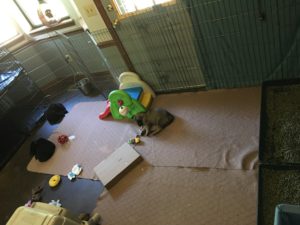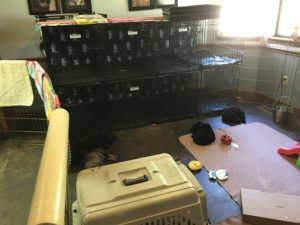 The now full sized weaning pen opens into the kitchen and dining room on one side, and to the puppy patio on the other size (through a doggie door in that blue door).   Litterbox is still on the north, but the puppies are learning to go outside to toilet now that they have access to their patio during the day.
Their crates are on the south wall, and the puppies have access to the bottom row with beds all the time now.
They eat all their meals in their crates now, each puppy has it's own crate.
Another BIG THING that happened in Week 6 was the first Puppy Party (from Puppy Culture).
The puppy part is more than just having people over to play with puppies (something we've done weekly since the puppies were tiny) It has a very specific goal, for the puppies to meet new people, in a new location, and then learn something new.
The puppies all had a great time, and that's the most important part!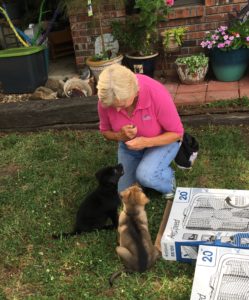 Puppies got to practice their Manding.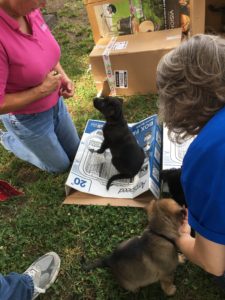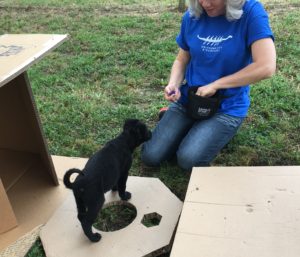 Be confident on new, wobbly, and unstable surfaces.
And to associate new people with wonderful experiences!
The puppies have also started "noodling" around the yard.  Noodles are walks with nowhere to go, just exploring the environment.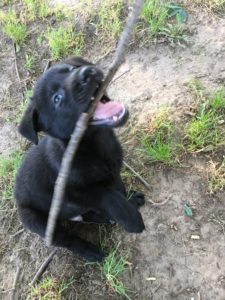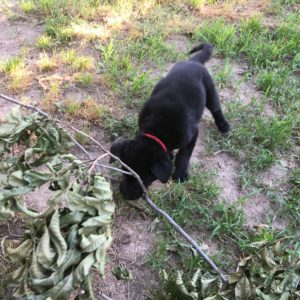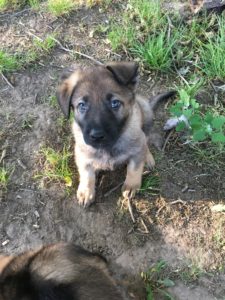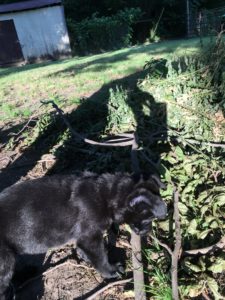 Noodling is important for puppies, it allow them age appropriate and safe exercise to build baby muscle strength, gives them a sensory experience to build their mind, and gives them a chance to socialize and learn from observing the older dogs.
Week 7.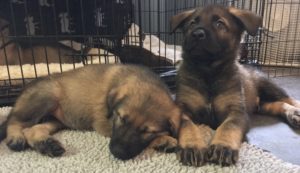 1. Practice of all clicker training lessons, hand targeting, sit cue, come, plus loose leash walking.
2. More crate conditioning as we build voluntary duration in the crate.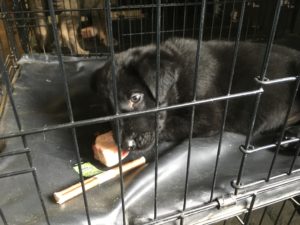 3. Noodling, walks, and more dog/dog socialization.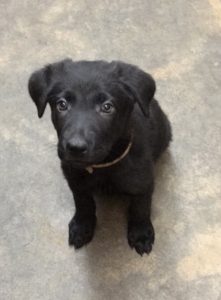 Week 7 Puppy Party!
Puppies had a blast, visiting with our guests, practicing manding, and hand targeting.  Socialization and training continue!
During Week 8 the Fs continued to receive daily crate conditioning.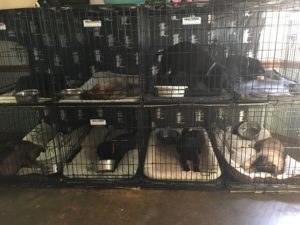 They are now eating most meals (some meals are served in enrichment toys, like slow feeders and kibble dispensers) in their crates.  They are also taking short naps crated!
Puppies have their first long car ride (30 minutes).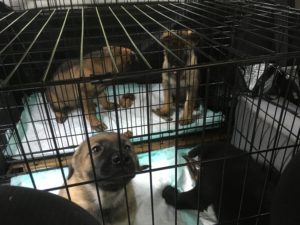 And vet visit (complete with Manding and Cookies!)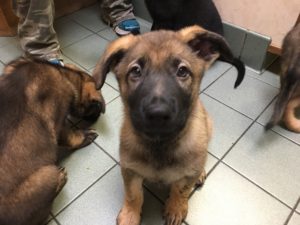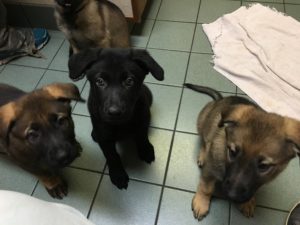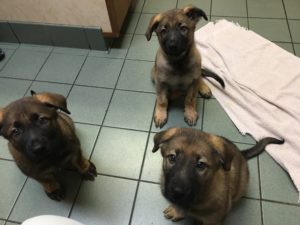 And more fun puppy stuff,  they enjoyed playing outside during a thunderstorm, such brave pups!
Training continues, don't forget to check out all the training videos on our Facebook page!