Zora von der burg Austerlitz
Zora von der burg Austerlitz
AKC: Canine Good Citizen
AKC: Novice Trick Dog
We are looking for a loving home for Zora.   If you might be interested please send me an e-mail.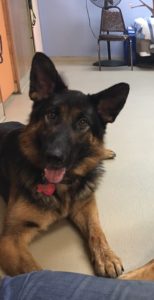 Zora is a three year old female (DOB: 1/01/15) out of Omen and sired by Brego.   Zora is a beautiful black and red female with strong bone, rich pigment, and great type.
Zora is good with familiar dogs both male and female, including smaller dogs in our experience.   She likes to play and roughhouse but she has great social skills and will self handicap when playing with smaller dogs, and she's also happy not to play when she's hanging out with my older dogs.
Zora has good basic training, we use her often as a demo dog in our basic manners class and reactive rover class.   She is rarely distracted by other dogs, even rude rowdy ones, and can work very nicely in a group training class type setting.
She walks politely on lead, comes when called, give attention when asked, does a great Leave It, sits when asked, and has a fantastic "settle down".    She's house trained, and very good in a crate.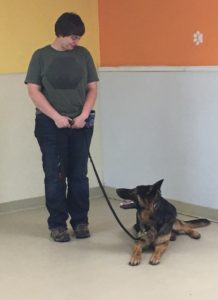 She travels well, is great in the car, and easy to take places.
Zora is spayed, current on vaccinations, on monthy heartworm preventive, and flea/tick prevention.   Aside from getting a bit itchy in spring (Zora does take allergy medicine when she is itchy)she's very healthy with no known health problems.
Zora would be happy being someone's best friend, but she's got plenty of potential for sport, she has a great foundation for obedience, rally, agility, and she especially loves scent work.
Zora has never been in a home with small children, so we are looking for a home for her without small children.   I have not had her around cats.
Zora enjoys all types of training, including scent work.