I always make kong stuffing out of my Thanksgiving leftovers.   I use whatever safe and appropriate items we have and the dogs get to celebrate along with us.
1. The Turkey carcass.  I strip off all the meat and connective tissue and boil the carcass (I use an 8 quart stockpot) in enough water to cover plus fresh apple cider vinegar (I used 1/4 cup to 10 cups water).  Boil as long as suits you, the vinegar will help release minerals from the bones, these minerals are very healthy for your dog, so the longer you boil the healthier the broth.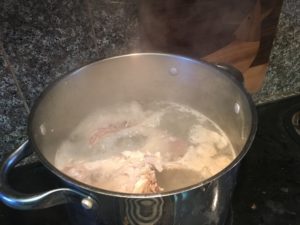 Chop any meat you are not going to save for yourself.   The greater the proportion of meat to oatmeal the richer your finished product, so keep your dogs preferences in mind.  If your dog has trouble with digestion, leave the skin out, I've used all the skin because my dogs have amazing digestion and I know they won't have any trouble digesting the fat.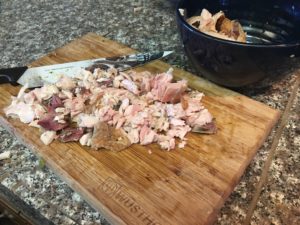 I made extra veggies, I have both cooked green beans and Brussels sprouts.  The sprouts I've well cooked, otherwise they are difficult for dogs to digest.  Since my veggies are cooked, I do not boil them with the carcass You can use whatever veggie you want, don't have any, try mixing in a bag of fresh leafy greens when the end product is hot but done cooking.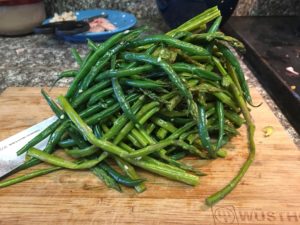 Green Beans!  Lightly cooked.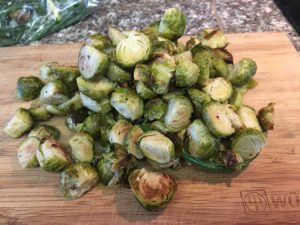 Well cooked Brussels sprouts.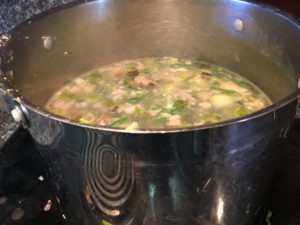 Remove the turkey bones by running your stock through a strainer, be sure to get all tiny bones too!  Then add the chopped meat and veg back to the simmer stock.  Turn off heat!  The rest is done without any heat.
Tip: be sure to finely chop the meat and veg, otherwise it's hard to get into the kong and hard for your dog to get out.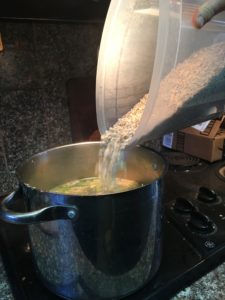 I'm using Old Fashioned oatmeal, just keep adding until your mixture gets thick.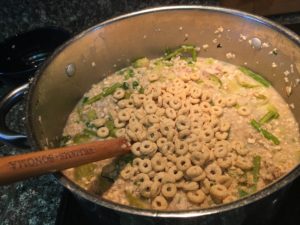 I also had some stale Cheerios, so those go in too.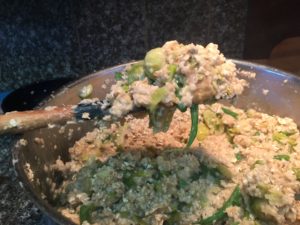 Keep adding oats until your mixture is thick and pastey.  Let this mixture cool until you can easily handle it.
Then start stuffing!
This makes a thick and sticky mixture that is HARD for dogs to remove, excellent for expert level de-stuffers!  If your dog isn't yet level expert at de-stuffing, try stuffing cows hooves (puppies and beginners), hollow shank bones (intermediate), Kongs (intermediate), West Paws Tux (advanced) and Squirrel Dudes (advanced).  This mixture is also suitable for lick mats, and slow feeder bowls.  Offered fresh is easier than if you stuff and offer the item frozen.
Tip: If you are worried about suction forming in the toy when the dog is licking it, at this stage and before freezing, run the stuffing through with a skewer, chop stick, or straw, the hole should run through the toy, and will remain after you remove the skewer.